Cheesesteak Benedict

(2 servings)

2 English muffin - split
4 large eggs
1 Tablespoon olive oil
5 Steak-umm-style sliced minute steaks - cut into strips
4 or 5 button mushrooms - sliced
1/3 cup sliced onion
2 slices American cheese
chopped chives for garnish - optional


For The Hollandaise Sauce:
2 egg yolks
1/4 teaspoon Dijon mustard
1 teaspoon lemon juice
1 pinch salt
1 pinch cayenne pepper
1/4 cup butter
I absolutely loved this dish. It felt like a working man's Eggs Benedict. It was fancy enough to serve at a high-falutin' brunch, but hearty enough to satisfy the appetite of a large, muddy, cattle-weary ranch hand. I liked that the Hollandaise sauce was light on the lemon. Too much citrus in the sauce would have been distracting. Given the choice between this Cheesesteak Benedict and traditional Eggs Benedict, I'd take this every time. (This dish was photographed in August 2015.)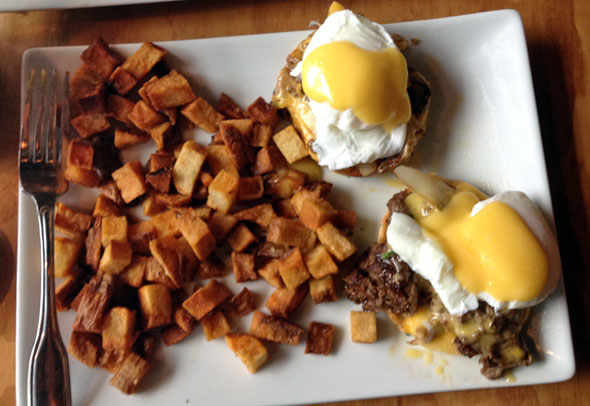 How To Make Cheesesteak Benedict

Make The Cheesesteak: Heat olive oil in a large frying pan over medium heat. Saute the mushrooms and onions until both are soft - about 5 minutes. Add the minute steak strips and cook - stirring occasionally - until they are nicely browned - about 3 minutes. Turn off heat and top with American cheese slices. Stir just before plating.

Make The Hollandaise Sauce: Combine all Hollandaise ingredients EXCEPT the butter in a blender. Pulse for 5 to 10 seconds. Melt the butter in the microwave - about 20 seconds. Slowly stream the butter into the blender continuing to pulse until totally combined. Keep the sauce warm by placing the jar of the blender in a pot of warm water until ready to plate.

Poach The Eggs: Bring 3 to 4 inches of water to a boil in a medium pot. Reduce heat to a gentile simmer and carefully crack the eggs into the water. After 3 minutes, remove the eggs with a slotted spoon and transfer to a folded paper towel to remove any loose strands of egg white.

Toast The English Muffins: As the eggs are poaching, toast the English muffins until golden brown. Butter lightly if desired.

Put It All together: Top each English muffin half with equal amounts of cheesesteak. Top that with a poached egg and a generous amount of the Hollandaise sauce. Garnish with chopped chives if desired.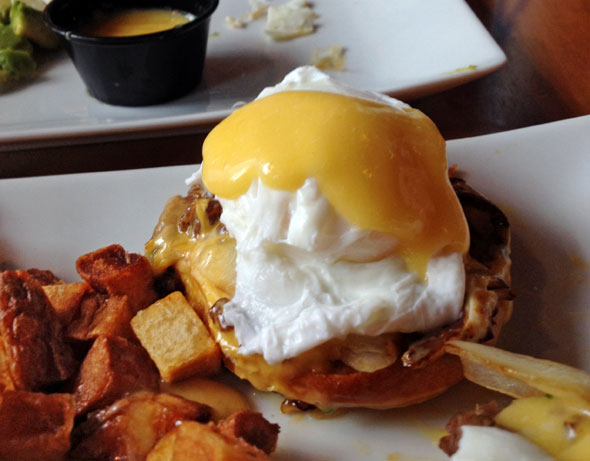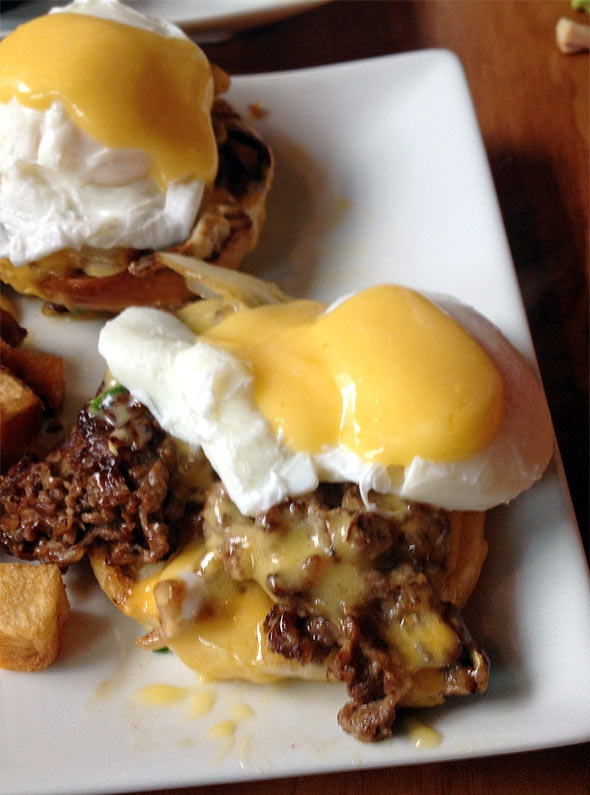 Eggs Benedict gets a manly upgrade with homemade cheesesteak taking the place of ham.




Mr Breakfast would like to thank Mr Breakfast for this recipe.

Recipe number 3265. Submitted 8/26/2015.