Cream Of Chicken Brunch Benedict

(6 servings)

1 can Campbell's Cream of Chicken Soup
1/4 cup mayonnaise
1/3 cup milk
1 Tablespoon lemon juice
6 cooked ham slices
3 English muffins - split and toasted
6 eggs - poached
In saucepan, combine soup, mayonnaise, milk and lemon juice. Heat; stir now and then.

Meanwhile, place a slice of ham on each muffin half; top with egg. Pour sauce over eggs.

6 Servings.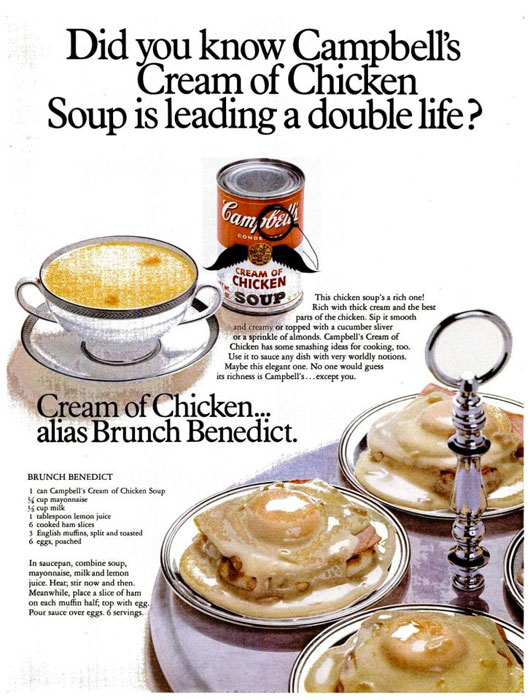 About This Recipe:

This recipe is from a vintage 1969 magazine ad for Campbell's Cream of Chicken Soup. The ad included the following text: "Did you know Campbell's Cream of Chicken Soup is leading a double life. This chicken soup's a rich one! Rich with thick cream and the best parts of a chicken... Use it to sauce any dish with very worldly notions... No one would guess its richness is Campbell's... except you." It should be pointed out that the can of soup in the ad is wearing a mustache and a monocle.

An interesting take on Eggs Benedict featuring cream of chicken soup. From a vintage 1969 magazine ad.




Mr Breakfast would like to thank Mr Breakfast for this recipe.

Recipe number 3257. Submitted 3/4/2015.