Salted Caramel Baked Donuts

(6 servings)

3/4 cup all-purpose flour
1/3 cup cake flour
1/3 cup sugar
1 teaspoon baking powder
1/2 teaspoon salt
1/2 teaspoon grated nutmeg
1/4 cup butter - cold and cut into small cubes
1 large egg
1/4 cup milk
1/4 cup sour cream
1 and 1/2 teaspoons vanilla


For The Icing:
3/4 cup light brown sugar
2 Tablespoons salted butter
2 Tablespoons heavy cream (or milk)
1 Tablespoon corn syrup
1/2 teaspoon vanilla
1/3 cup powdered sugar
kosher salt or sea salt flakes
These baked donuts took me about an hour to make from start to finish. I started making the icing as soon as put the donuts in the oven. The result was terrific. The donuts themselves have fried cake donut flavor despite being baked. The homemade caramel icing was amazing and the salt provided a perfect contrast for all of the sweet flavors. (This recipe was developed, tested and photographed in January 2015.)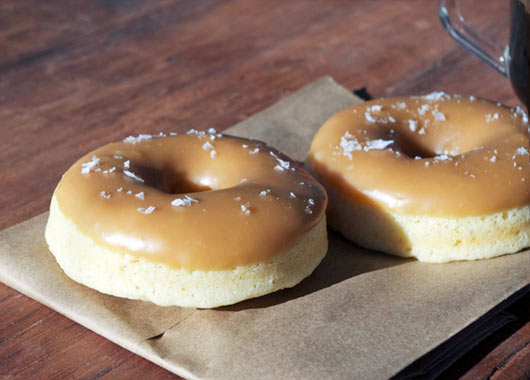 Preheat oven to 350 degrees. Prepare a 6-slot donut pan by greasing generously with softened butter.

In a large bowl, stir together the all-purpose flour, cake flour, sugar, baking powder, salt and nutmeg. Add the butter and cut it into the dry mixture using a pastry cutter, 2 knives or your finger tips until the texture is like coarse sand.

In a separate bowl, beat the egg. Add the milk, sour cream and vanilla and beat until well-combined.

Add the wet ingredients to the flour mixture and stir until just combined and moistened.

Transfer batter to a pipping bag. Fill each donut indentation about 3/4 full.

Bake at 350 degrees for 12 to 15 minutes... just until donuts begin to brown on the sides.

Allow donuts to cool and remove from pan.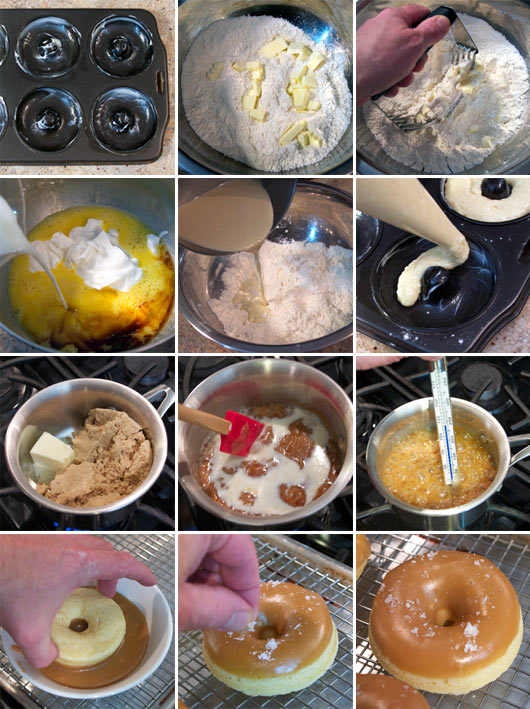 To Make The Icing:

In a small sauce pan over medium heat, add the brown sugar and butter. Stir often until the brown sugar and melting butter are totally combined. Reduce heat to a simmer, add the cream and corn syrup and allow mixture to gently boil for about 8 minutes (temperature should be about 210 degrees).

Turn off heat and stir in the vanilla. Gradually stir in the powdered sugar. While continuing to stir occasionally, allow caramel to cool for 5 minutes. Transfer to a shallow bowl. Stir in 1 additional Tablespoon of milk if icing is too thick.

Dip the tops of the donuts into the warm icing.

Immediately sprinkle each donut with salt.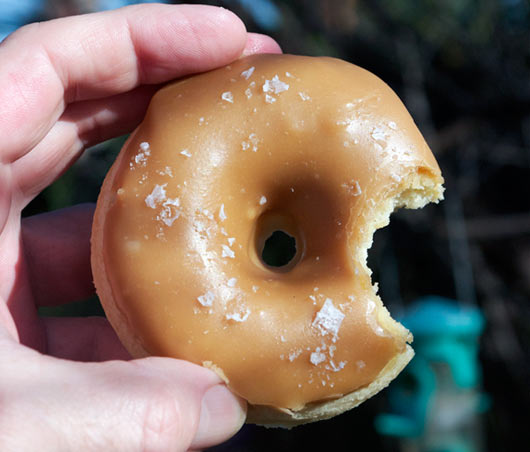 Recipe Notes:

If you don't have cake flour, you can just replace it with more all-purpose flour. The cake flour helps give the donuts a lighter texture, but the difference isnít all that dramatic.

If desired you can replace the sour cream with plain or vanilla yogurt. The purpose of this ingredient is to assure a degree of moistness in the the finished donuts.

If you don't have a piping bag, you can fill a large Ziploc baggie and trim one of corners to create a makeshift piping bag.

You can tell the donuts are finished baking by touching one gently with your finger tip. If the indentation springs back instead of creating a dimple, the donuts are ready.

If your icing gets too thick, add milk a teaspoon at a time until it is fluid. If it's too thin, add additional powdered sugar 1 Tablespoon at a time. The ideal consistence should resemble thick pancake syrup (or a less appetizing example would be the consistency of ketchup.)

Don't go too crazy with the salt. Use it almost like you would decorative sprinkles.

If you don't have a donut pan, you could use a muffin tin. Just fill the greased cups about 1/2 full. Makes about 8 donut muffins. Cooking time may be a couple minutes more.

Your friends will be surprised to discover that these are baked, not fried. Itís a gourmet donut experience that's as easy and quick to prepare as muffins. A donut baking pan is required.




Mr Breakfast would like to thank Mr Breakfast for this recipe.

Recipe number 3250. Submitted 1/14/2015.