Creamy Cinnamon Oatmeal

(1 serving)

1/2 cup quick oats
1/2 cup water
1/2 cup milk
dash salt
2 packets of Splenda
cinnamon (to taste)
This is almost as quick to make as oatmeal from a packet and it tastes better. I found it was especially good with a splash of milk and some chopped pecans. I used 1 Tablespoon of sugar instead of the Splenda and 1/2 teaspoon of cinnamon which I mixed in with the oats instead of adding it like a garnish. I found that it had a pleasant sweetness with the minimal amount of sugar, but some people might find that it needs more - which is easy enough to add at the end. My final verdict: I liked this oatmeal very much. It took two minutes to prepare and then I smiled for 6 minutes as I ate it. (This recipe was submitted in September 2014. It was tested and photographed in October 2014.)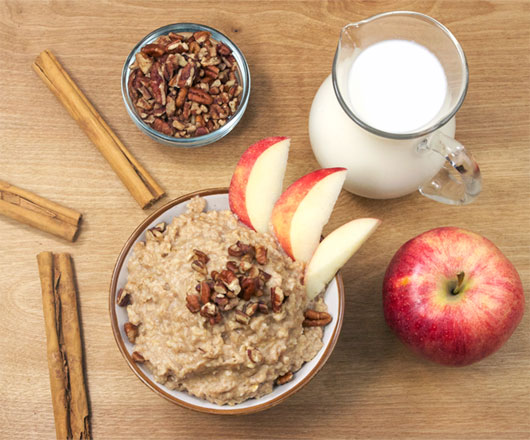 How To Make Creamy Cinnamon Oatmeal (In The Microwave)

Put oats, water, milk, salt, and Splenda in a microwave-safe bowl. Heat for 1-2 minutes (depending on your microwave speed. Remove from microwave and stir.

Heat for additional 30-second intervals, stirring after each one, until thickened as desired.

Sprinkle generously with cinnamon.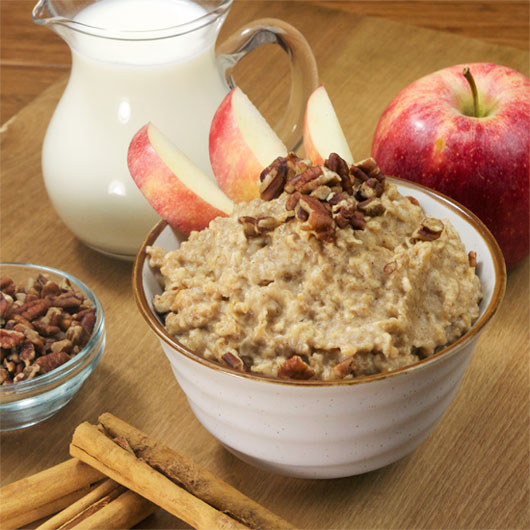 Note From Recipe Submitter:

Make sure to use only a tiny dash of salt. Otherwise, the salt will cancel out the sweetness of the Splenda, and not taste good with the cinnamon.

When made with skim or 1% milk, this oatmeal only has about 200 calories. It is also more filling than the instant oatmeal packets.

A 200 calorie, microwave oatmeal that uses a combination of milk and water to cook the oats so they have maximum creaminess.




Mr Breakfast would like to thank Anonymous Breakfast Lover for this recipe.

Recipe number 3238. Submitted 9/21/2014.