Fruit & Nut Lactation Muffins

(12 servings)

1 cup all-purpose flour
1/2 cup oats
1/4 cup rice flour
2/3 cup brown sugar - packed
1 teaspoon baking powder
1/2 teaspoon baking soda
1 teaspoon cinnamon
1/2 teaspoon ginger
1/2 teaspoon salt
1 Tablespoon sesame seeds
1 Tablespoon flax seed meal
1/4 cup chopped dried apricots (6-8)
1/4 cup chopped dates (6-8)
2 Tablespoons raisins
1/4 cup slivered almonds
1/2 cup crushed pineapple (with juice)
1/2 cup melted butter or coconut oil
1 large egg - lightly beaten
6 oz container of vanilla yogurt
1 and 1/2 teaspoons vanilla
1 Tablespoon barley malt syrup (or honey)
1 teaspoon ground fenugreek (optional)
1 teaspoon nutritional yeast flakes (optional)
1/2 teaspoon bee pollen (optional)
These muffins are made with new mothers in mind. Most of the ingredients are lactogenics - or help lactating moms increase their milk supply. Most of the items you'll find in your pantry already - but if you don't have the barley malt, fenugreek, nutritional yeast, or bee pollen, you can just omit those! They're delicious either way! And a great way to surprise a new mom with a yummy treat! (This recipe was tested and photographed in August 2014.)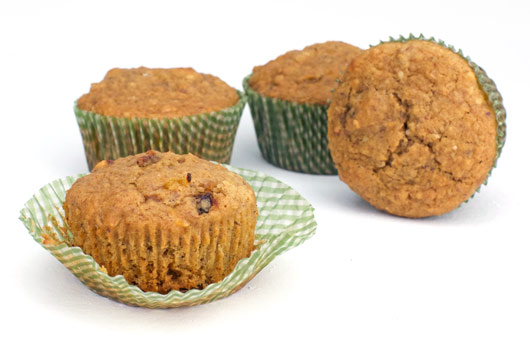 How To Make Fruit & Nut Lactation Muffins

Preheat oven to 400 degrees. Prepare 12 muffin cups with muffin papers.

In a food processor - pulse the oats until they are a coarse flour. In a large bowl, mix together the flours, oats, brown sugar, baking powder, baking soda, cinnamon, ginger, salt sesame seeds, and flax seed meal together.

Chop the dried apricots and dates. Add them, the raisins and almonds, to the dry ingredients.

In another bowl, mix the pineapple, melted butter, egg, yogurt, vanilla and barley malt. Fold in the wet mixture into the dry with a spatula, and add in the fenugreek, nutritional yeast and bee pollen if using.

Spoon batter into prepared muffin cups (or use an ice cream scoop to dollop the perfect amount). Bake 20 minutes until a toothpick inserted into the center of a muffin comes out clean.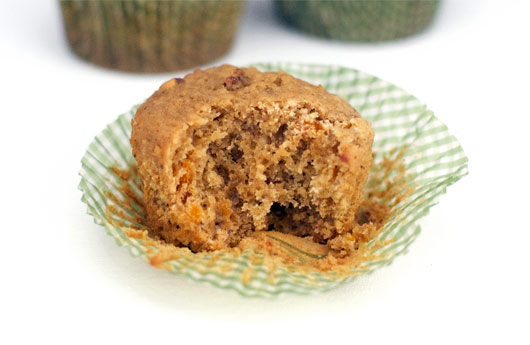 Muffins designed specifically to provide ideal nutrients for breastfeeding mothers.




Mr Breakfast would like to thank brekkiebaby for this recipe.

Recipe number 3234. Submitted 8/14/2014.