Stone Age Biscuits And Gravy

(6 servings)

For The Biscuits:
6 large egg whites
3/4 cup almond flour
1/4 cup coconut flour
1 teaspoon baking powder
2 Tablespoons coconut oil
1/2 teaspoon salt


For The Gravy:
1 pound bulk sausage
1 Tablespoon almond flour
1 Tablespoon arrowroot starch
14 ounces coconut milk (one typical can)
2 teaspoons dried sage
1 teaspoon dried oregano
1 teaspoon paprika
black pepper - to taste
If youíre on a gluten-free diet and thought biscuits and gravy were a thing of the past, think again. This version of the classic southern breakfast has an interesting twist in that elements of coconut are used in both the biscuits and the gravy. At first taste, youíll notice a playful contrast between savory and sweet that you donít find in traditional diner-style versions of the dish. As you eat more, the sweetness from the coconut translates to a unique richness. I personally loved this dish. Itís not a lame compromise for the real thing as many gluten-free recipes can be. Itís new and itís great. (This recipe was tested in July 2014.)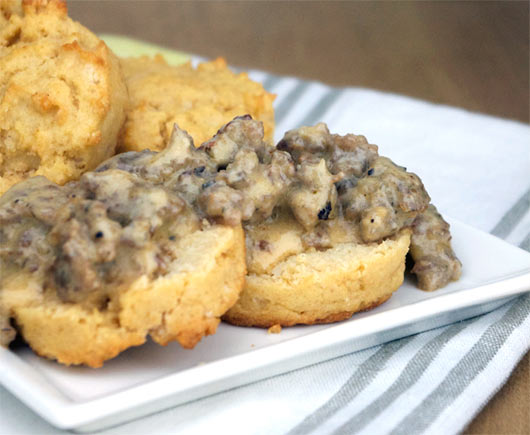 How To Make Stone Age Biscuits And Gravy

To Make The Biscuits:

In a large bowl, mix together the 2 flours, baking soda and salt. Add the coconut oil and use a fork to "crush" the solidified oil into the dry ingredients. Keep stirring that way until the combined mixture looks like a a bowl of bread crumbs. Refrigerate for 30 minutes.

When ready to bake... Preheat oven to 400 degrees. Prepare a large cookie sheet by lining it with parchment. Use a glass or metal bowl and beat the egg whites until they are very frothy (but short of stiff peaks).

Remove previous mixture from refrigerator. Fold in the beaten egg whites.

Dollop batter onto the cookie sheet in heaping Tablespoon amounts and gently pat the tops and sides of each biscuit to smooth.

Bake for 15 minutes or until golden brown.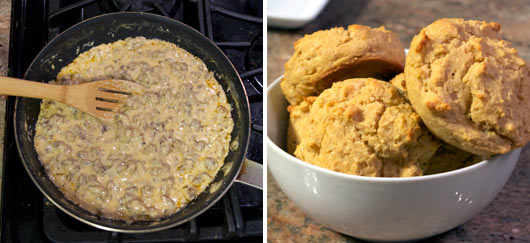 To Make The Gravy:

Cook and crumble sausage in a large skillet until fully cooked with no pink color remaining. Transfer to sausage to a bowl or plate, but leave the dripping from the sausage in the pan.

With the heat set to low, add the almond flour and arrowroot starch to the drippings. Whisk until a paste-like texture is created. Add half of the coconut milk along with all seasonings. Increase heat to medium-high and allow mixture to reach a low boil while continuing to stir.

Add remaining coconut milk and the crumbled sausage. Reduce heat to medium-low and allow gravy to simmer - stirring occasionally - until thickened to your liking. (If gravy is too thick, you can thin it with vegetable stock, meat stock or just water.)

Serve hot over biscuits.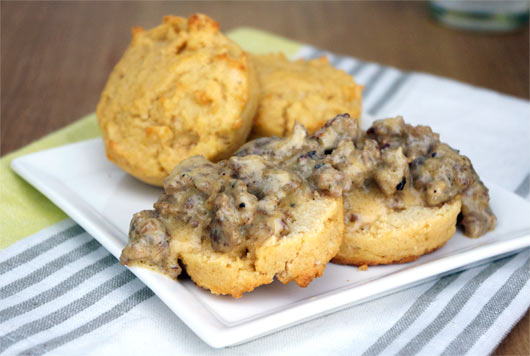 * Arrowroot starch is also known as arrowroot powder and tapioca flour).

This gluten-free recipe is intended for people on a Paleo diet (aka The Stone Age Diet; aka The Caveman diet.)




Mr Breakfast would like to thank Mr Breakfast for this recipe.

Recipe number 3231. Submitted 7/16/2014.