Hot Buttered Cheerios

(4 servings)

1/4 cup butter or margarine
4 cups Cheerios cereal
salt - to taste
This simple snack recipe is from a 1982 magazine ad for Cheerios cereal. The ad encourages you to "make a bowl right now!" and says, "it's a tasty new snack your whole family will enjoy." I don't recommend it for breakfast. But since it's a fun recipe made with breakfast cereal, it seems like it should have a place on this site. On a related note, my family used make something like this in the 70's. However, we used Puffed Rice cereal and a little less butter.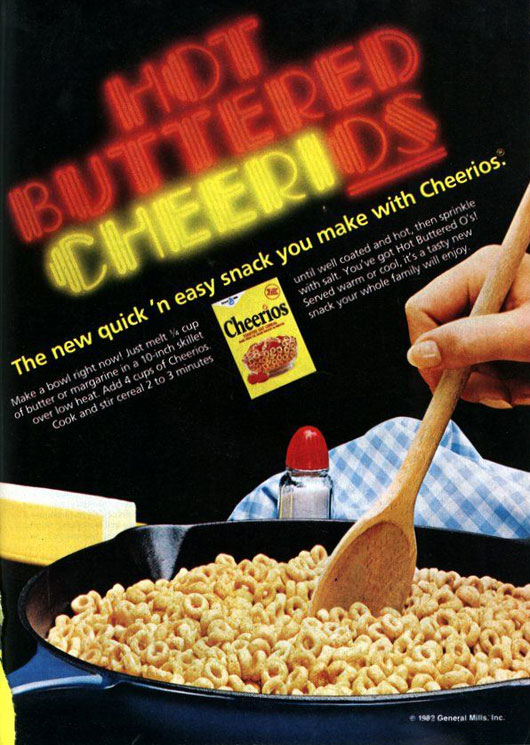 How To Make Hot Buttered Cheerios

Just melt the butter or margarine in a 10-inch skillet over low heat. Add the Cheerios. Cook and stir cereal 2 to 3 minutes until well coated and hot, then sprinkle with salt.

You've got Hot Buttered O's! Serve warm or cold.


A 1982 magazine ad touted this recipe as The New Quick 'N Easy Snack You Make With Cheerios. The only ingredients required are butter, Cheerios and salt.




Mr Breakfast would like to thank Mr Breakfast for this recipe.

Recipe number 3216. Submitted 1/17/2014.