Spinach Souffle (Vintage)

(4 servings)

1 package chopped frozen spinach (1 cup)
1 Tablespoon grated Parmesan cheese
1 Tablespoon butter
2 or 3 shallots - minced
2 Tablespoons lemon juice
6 Tablespoons butter
5 Tablespoons flour
1 and 1/2 cups milk
1 teaspoon salt
freshly ground back pepper - to taste
6 large eggs
1 egg white
Preheat oven to 400 degrees.

Butter a two-quart souffle dish and sprinkle the sides and bottom lightly with Parmesan cheese.

Melt one Tablespoon of butter in a heavy saucepan and add the shallots. Cook for about three minutes, stirring once or twice. Add the thoroughly drained spinach and lemon juice and cook over very low heat, stirring frequently, until all the liquid has evaporated, which will take about 10 minutes. Set aside.

Melt the 6 Tablespoons of butter in a heavy sauce pan and, over low heat, stir in the flour with a wire whisk; remove from heat.

Meanwhile, bring the milk to the boiling point and add it to the butter-flour mixture, beating vigorously with a wire whisk until smooth. Add the salt and pepper and continue whisking until blended. Let this white sauce cool a little.

Meanwhile, separate the eggs. Beat the yolks into the sauce one at a time. Stir in the spinach and set the mixture aside.

Beat the egg whites, including the extra white, in a large bowl until they hold soft peaks.

Stir a little of the whites into the sauce to make it easier to manage, then gently fold in the remainder.

Pour this mixture into the prepared souffle dish. Place in oven, turn heat down to 375 degrees immediately and bake for 30 to 40 minutes until the top is well puffed up ad lightly browned.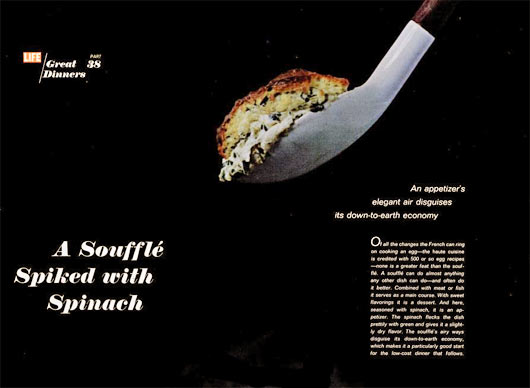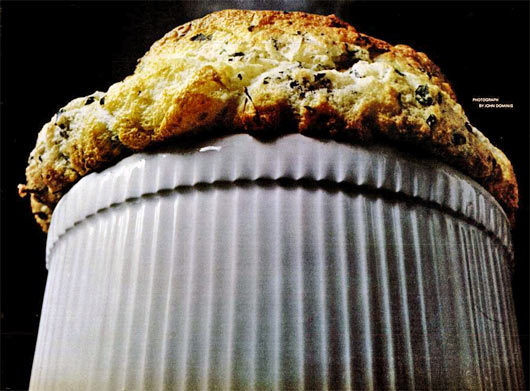 About This Recipe:

This vintage recipe is from a February 1967 issue of Life Magazine from an article titled, "A Souffle Spiked With Spinach" written by Eleanor Graves. The souffle photos are by John Dominis.

The intro to the article reads as follows:

"Of all the changes the French can sing on cooking an egg - the haute cuisine is credited with 500 or so egg recipes - none is a greater feat than the souffle. A souffle can do almost anything any other dish can do - and often do it better."

The intro to the reipe reads as follows:

"Don't hesitate to use frozen chopped spinach in this recipe - all the chopping has been done for you. One package is just the right amount, and the spinach has been frozen raw so that you will not be cooking it for the second time. If you are making a major effort to keep costs down and you don't have shallots in the house, substitute two Tablespoons of minced onion or scallions instead. Shallots have a more delicate flavor, but they are a good deal more expensive than the lowly onion."


A retro recipe from 1967 for a spinach souffle where the souffle dish is sprinkled with grated Parmesan for extra flavor. The original article considered it to be an appetizer, but we think it makes a great breakfast.




Mr Breakfast would like to thank Mr Breakfast for this recipe.

Recipe number 3202. Submitted 9/6/2013.