Coffee Cake Muffins

(12 servings)

1 and 1/2 cups all-purpose flour
1/2 cup whole wheat flour
1 Tablespoon baking powder
1/4 teaspoon salt
2/3 cup brown sugar - packed
1 teaspoon cinnamon
1 large egg
1 cup low-fat plain or vanilla yogurt
1/4 cup butter - melted
2 teaspoons vanilla extract


For The Crumble Topping:
1/4 cup all-purpose flour
1/4 cup quick-cooking oats
1/4 cup brown sugar - packed
1 teaspoon cinnamon
1/8 teaspoon freshly grated nutmeg (optional)
1/4 cup cold butter - cut in small cubes
Prepare 12 regular muffin cups or 8 giant muffin cups by spraying generously with cooking spray or by lining with muffin papers. Preheat of to 350 degrees.

In a large bowl, sift together the all-purpose flour, whole wheat flour, baking powder and salt. Mix in the brown sugar and cinnamon.

In a smaller bowl, lightly beat the egg. Add the yogurt, melted butter and vanilla and stir until well combined.

Add the wet ingredients to the dry ingredients and gently mix just until moistened.

Make the crumble topping by placing all the topping ingredients in a medium bowl. Blend with cool, clean fingertips until well combined and crumbly.

Fill each prepared muffin cup 1/3 full with batter. Sprinkle about a teaspoon of the topping over each cup. Add remaining batter to the cups so they are all about 2/3 full. Top evenly with the remaining crumble mixture.

Bake for 15 to 20 minutes or until a toothpick inserted in the center of a muffin comes out clean (no batter sticking to it). For giant muffins, allow 5 more minutes baking time.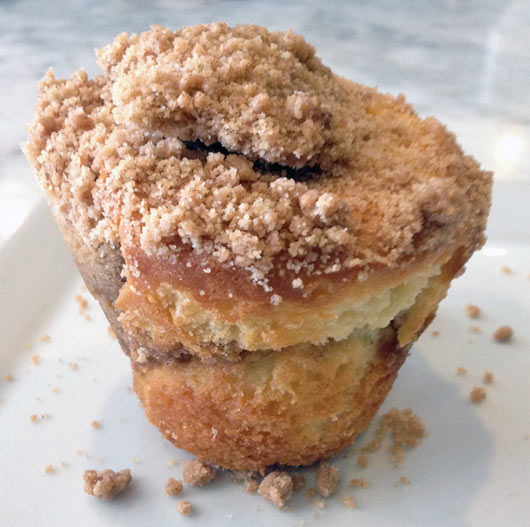 If desired, you can incorporate berries into this recipe, just fold 1 cup blueberries or raspberries into the compiled batter. If using vanilla yogurt, reduce the amount of vanilla extract to 1 teaspoon. For the batter, you can use just all-purpose flour if you like. I like to fit in a bit whole wheat flour for nutrition and because it adds a happy complexity to the finished muffins. For the topping if you don't have quick-cooking oats, you can use Old Fashioned oats, just pulse them in a food processor or blender for a couple seconds so the pieces are smaller (but not pulverized).

The flavor and feeling of a great coffee cake in the palm of your hands. These muffins have a tasty brown sugar and cinnamon crumble topping.




Mr Breakfast would like to thank Cindy44 for this recipe.

Recipe number 3194. Submitted 7/9/2013.