Sausage, Egg And Double Cheese Breakfast Sandwich

(1 serving)

1 English muffin - split
1 sausage patty (about 1/3 cup bulk sausage)
1 large egg
1 slice Cheddar cheese
1 slice Pepper Jack cheese
butter - if desired
This recipe is sort of quick tutorial on how to make fast food style breakfast sandwich. At the bottom, you'll find instructions to make egg patties like the ones from McDonald's. This breakfast sandwich can be easily modified to fit your tastes. The egg could be prepared any way you like, cooked bacon or ham could replace the sausage and you can use any kind(s) of cheese you like. Let me know how you like your breakfast sandwich in the comments below.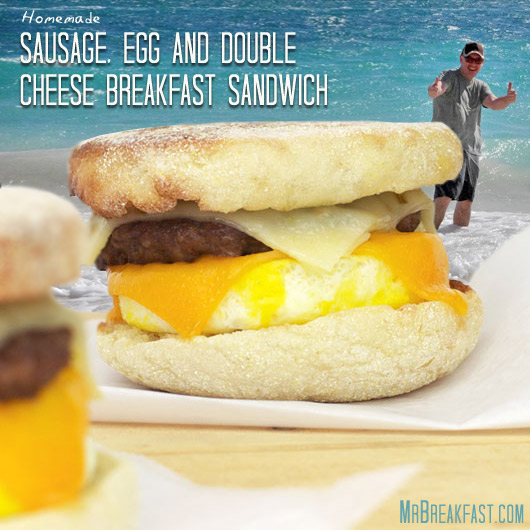 How To Make A Sausage, Egg And Double Cheese Breakfast Sandwich

Fry a sausage patty in a frying pan over medium-high heat until browned and completely cooked through. As a rule, you should make your sausage patty about 1 and 1/2 times as wide as your English muffin as the sausage will shrink a bit as it cooks.

When the sausage is nearly done, cook your egg in a separate pan. It could be scrambled, fried, poached or any way you prefer. I like to make a fast food style egg patty with an egg ring. (Directions below.)

As your egg cooks, toast your English muffin.

When everything is ready, butter the English muffin. Top the bottom half with the egg, a slice of Cheddar cheese, the sausage and a slice of Pepper Jack cheese. Top with the other English muffin half.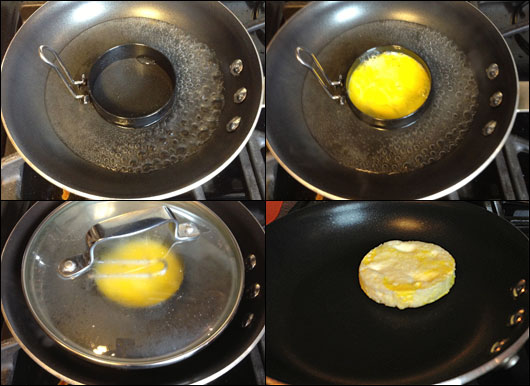 Cooking Notes:

If you're making a couple breakfast sandwiches you can keep the individual components warm in a 250 degree oven and then assemble all the sandwiches at once.

To make McMuffin-style egg patties: Place a small frying pan over medium heat. Place the egg ring in the center of the pan. Pour hot water around the outside of the ring until it rises to about 1/6 the height of the egg ring. Gently beat the egg. When the water boils, pour the egg into the egg ring and cover the pan. Let the steam cook the egg for about 3 minutes. Pour off the water. Remove the egg ring. Flip the egg and cook 30 seconds more.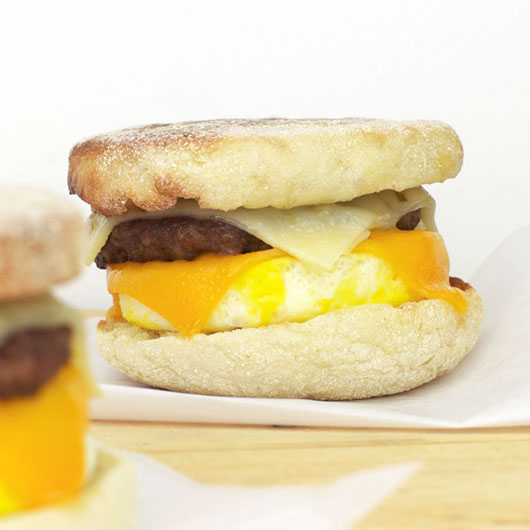 A McMuffin-style breakfast sandwich with two kinds of cheese. You could also add crispy, cooked bacon or use it to replace the sausage.




Mr Breakfast would like to thank Mr Breakfast for this recipe.

Recipe number 3185. Submitted 6/2/2013.