Chocolate Swirl Coffee Cake

(8 servings)

1/3 cup flaked coconut
1/4 cup chopped nuts
1/4 cup sugar
3 Tablespoons butter or margarine - melted
2 cups Bisquick baking mix
1/4 cup sugar
1 egg
2/3 cup water or milk
1/3 cup semisweet chocolate pieces - melted
Heat oven to 400 degrees. Grease an 8 x 8 x 2 inch baking pan.

In a small bowl, stir together the coconut, nuts, 1/4 cup sugar and 1 Tablespoon of the butter; set aside.

Mix baking mix, 1/4 cup sugar, the remaining butter, the egg and the water (or milk). Beat vigorously for 1/2 minute. Pour into the pan.

Spoon melted chocolate over the the batter. With a knife, cut through the batter several times for a marbled effect. Sprinkle coconut mixture evenly over the top.

Bake for 20 to 25 minutes. Serve warm.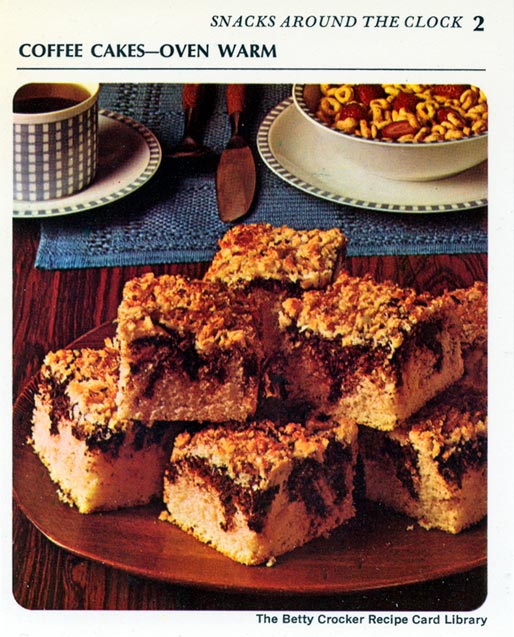 This recipe is from a vintage 1971 Betty Crocker Recipe Card called "Coffee Cakes - Oven Warm." Copyright General Mills, Inc.



For the unspecified nuts, try chopped walnuts or pecans for best results.




Retro recipe for an easy-to-make coffee cake with streaks of chocolate and a flaky coconut topping. From a 1971 recipe card.




Mr Breakfast would like to thank Mr Breakfast for this recipe.

Recipe number 3176. Submitted 4/4/2013.