Butterscotch Coffee Cake

(10 servings)

9 ounces butterscotch chips (slightly more than 1 cup)
4 Tablespoons cream cheese (1/4 cup)
3 cups + 1/2 cup all purpose flour
3/4 cup white sugar
1 teaspoons baking powder
1 teaspoon baking soda
1 teaspoon salt
1 and 1/4 cup cold butter (2 and 1/2 sticks)
2 large eggs
1 cup + 2 Tablespoons milk
1 teaspoon vanilla
1/2 cup brown sugar - packed
1/2 cup chopped pecans or walnuts
Prepare a 13-inch by 9-inch rectangular baking pan or two 9-inch round pans by spraying with cooking spray (or smearing with butter) and lining the bottom with parchment. Preheat oven to 350 degrees.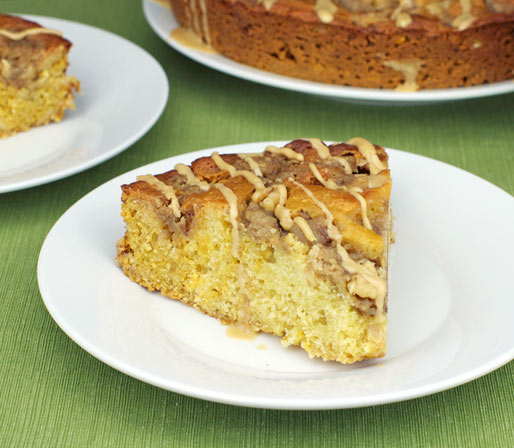 Place a medium saucepan filled 3/4 full of hot water over medium heat on the stove. Place all but 3 Tablespoons (reserve those for the topping) of the butterscotch chips in a small metal mixing bowl. Place the mixing bowl over the hot water and stir the chips until they are completely melted. Stir in the cream cheese and 2 Tablespoons of milk. Remove from heat and set aside.

In a large bowl, mix together 3 cups of the flour, the white sugar, baking powder, baking soda and salt. Take 2 sticks of the butter (1 cup) and cut them into small cubes. Add them to the flour mixture and mix them in with your finger tips until the overall texture is like coarse breadcrumbs.

In a medium bowl, lightly beat the eggs. Add remaining 1 cup milk and the vanilla and stir to combine. Add this wet mixture to flour mixture to form the batter - stir gently until just combined and moistened.

Spread the melted butterscotch mixture over the bottom of the pan(s). Spoon the batter on top of the butterscotch. Using the tip of a dull knife, gently swirl the batter so lines of caramel swirl into the batter.

Make a quick topping by mixing together 1/2 cup flour, the remaining 1/2 stick of butter (chilled and cubed) and the brown sugar. Mix with your finger tips until the mixture is like a crumbly cookie dough. Add the chopped nuts and the remaining 3 Tablespoons of butterscotch chips and mix well. Using your finger tips, dot the top of the coffee cake(s) with this mixture - scattering pebble size pieces of the topping evenly over the top.

Bake at 350 degrees for 35 to 40 minutes. You can tell it's done when a toothpick inserted into the center comes out clean.

Allow coffee cake to cool completely before serving or attempting to remove from the pan.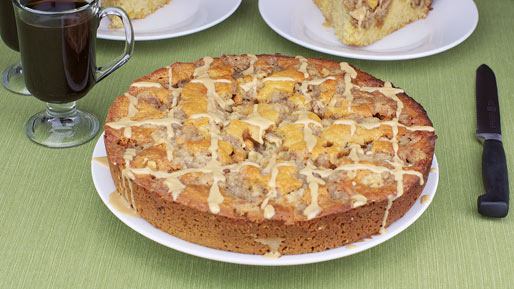 An indulgent breakfast or brunch treat. This coffee cake has butterscotch swirled through a layer of fluffy cake with a butterscotch and nut topping as the finishing touch.




Mr Breakfast would like to thank Mr Breakfast for this recipe.

Recipe number 3170. Submitted 4/2/2013.