Eggs Arnold

(4 servings)

1/2 cup butter or margarine
2 medium onions - peeled and thinly sliced
8 eggs
1/2 cup milk
1 teaspoon TABASCO pepper sauce
1/4 teaspoon salt
2 Tablespoons chopped parsley
4 English muffins
1 Tablespoon spicy brown mustard
3 ounces thinly sliced salami
In a medium skillet, melt butter; cook onions over low heat about 15 to 20 minutes or until lightly golden.

Meanwhile, in a large bowl, beat together the eggs, milk, TABASCO sauce and salt. When onions are cooked, stir in egg mixture.

When edges begin to set, draw cooked portions toward center so uncooked portion flows to bottom. Stir constantly; cook over low heat about 4 to 6 minutes or until eggs are cooked throughout, but still moist. Gently stir in parsley.

Split and toast English muffins; spread with mustard. Top with salami slices and egg mixture. Serve with additional TABASCO sauce, if desired.

Makes 4 servings.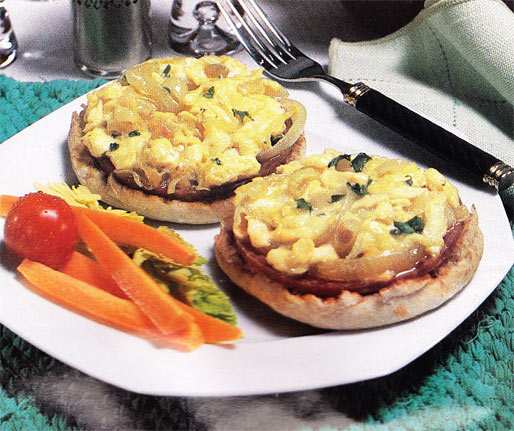 This recipe is from a 1988 booklet Louisiana Cookin' From Tabasco Brand Pepper Sauce (Mcllhenny Company).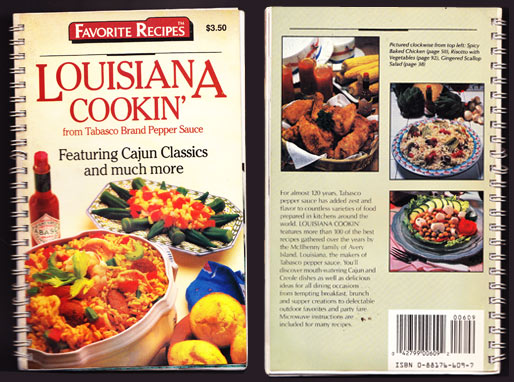 This description of the booklet is on the back cover: "For almost 120 years, Tabasco pepper sauce has added zest and flavor to countless varieties of food prepared around the world. LOUISIANA COOKIN' features more than 100 of the best recipes gathered over the years by the Mcllhenny family of Avery Island, Louisiana, the makers of Tabasco pepper sauce. You'll discover mouth-watering Cajun and Creole dishes as well as delicious ideas for all dining occasions from tempting breakfast, brunch and supper creations to delectable outdoor favorites and party fare."


Scrambled eggs with onions, parsley and hot sauce are served over English muffins with thinly sliced salami. From a vintage 1988 Tabasco sauce recipe booklet.




Mr Breakfast would like to thank Mr Breakfast for this recipe.

Recipe number 3169. Submitted 3/30/2013.