Quick And Crispy Waffles

(4 servings)

2 cups all-purpose flour
2 Tablespoons sugar
1 teaspoon baking powder
1/2 teaspoon baking soda
1/2 teaspoon salt
1 and 3/4 cup milk
1/3 cup canola or vegetable oil (melted butter will also work)
2 large eggs
1 teaspoon vanilla (optional)
1/2 teaspoon cinnamon (optional)
This is a great go-to recipe for when you want to make waffles without a lot of hassle. Many (admittedly great) recipes ask you to use multiple bowls for dry ingredients, wet ingredients and for whipping egg whites separately. Clean up can be a real drag. For this recipe, you throw everything in one large bowl, mix, rest and cook. It's easy, it's fast and it's very good for a basic, no-frills, fluffy waffle. This recipe is Mr Breakfast Approved (March 2013).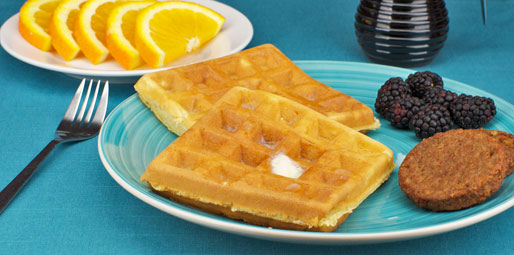 How To Make Quick And Crispy Waffles

Place all of the ingredients in a large mixing bowl. Mix until smooth. Let batter set for 5 minutes.

Bake according to your waffle maker's instructions.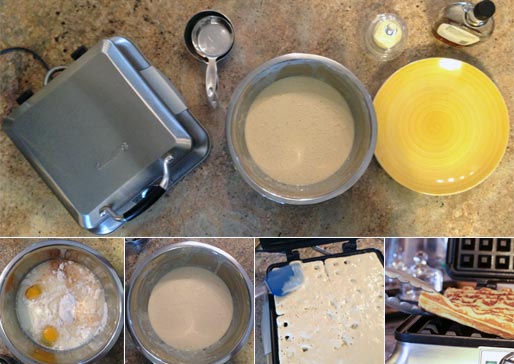 Cooking Notes:

I used a fairly large Cuisinart waffle iron that makes 4 1-inch thick square waffles. I applied a little over 1 and 1/2 cups batter per batch of waffles. For this particular waffle maker, it's important that you spread the batter evenly over the waffle plates - right into the corners - or else you get waffles that are misshapen. This recipe yielded 8 waffles from the batter produced.

I used to worry that taking the time to spread the batter would over-cook the underside of the waffle. After making this recipe a few times, that is no longer a concern.

I strongly recommend that you make a permanent mental note of how much batter your waffle maker instructions tell you to add to the machine. Use too little and you get weird shaped waffles. Use too much and batter seeps out of the iron making a real mess. Stick to the instructions and use the exact amount.

To maximize crispness: Brush canola oil on the waffle plates before baking. This isn't necessary to keep the waffles from sticking (there's enough oil in the recipe to do that). It helps crisp and brown the exterior. Cook the waffles a little longer than you usually would... until they are a deep brown on the underside.

Incidentally, it's usually the underside of the waffle that is the most pretty and uniform in color. So, flip 'em over before you serve them.

If you want to keep waffles warm while making more, place completed waffles on a baking tray in the oven set to 225 degrees.

This batter should work fine with any waffle maker. I'd love to hear about your experience with this recipe and the waffle iron that you used. Please leave a comment below if you try it.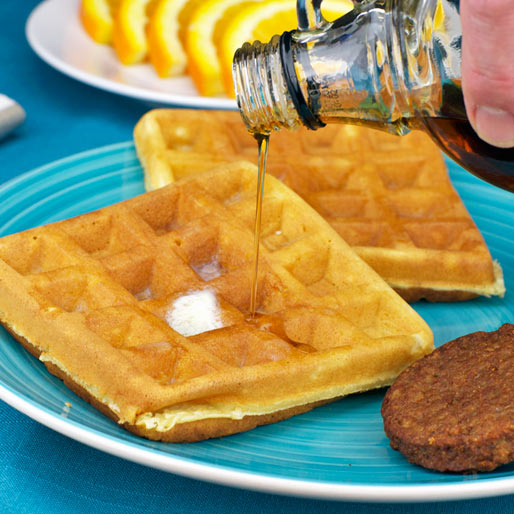 When you want waffles and you want them fast, this is a terrific recipe. Great basic waffles with a minimum of clean-up.




Mr Breakfast would like to thank Mr Breakfast for this recipe.

Recipe number 3167. Submitted 3/21/2013.