Chocolate Granola

(8 servings)

3 cups quick-cooking or Old Fashioned oats
1/4 cup all-purpose flour
1/2 teaspoon salt
1/4 cup butter
1/2 cup cocoa powder
1/4 cup brown sugar
1/3 cup honey or pure maple syrup
1/2 cup mini chocolate chips (optional)
It took me a few tries, but I finally made a chocolate granola that I'm happy with. By mixing cocoa powder, butter and brown sugar on the stove, you end up with a sort of fudge sauce that embraces the oats before they go into the oven. Add a few chocolate chips to the mix and it's chocolate heaven.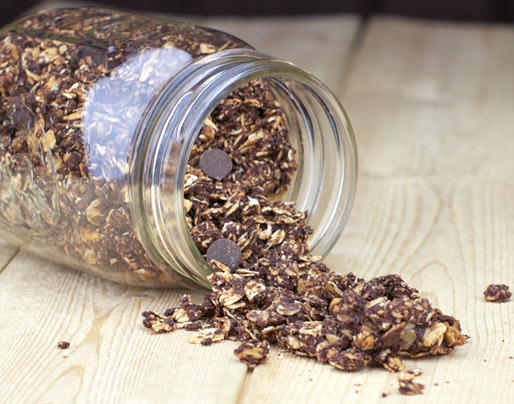 How To Make Chocolate Granola

Preheat oven to 325 degrees.

In a large bowl, mix together the oats, flour and salt.

In a small sauce pan, melt the butter over low heat. Add the brown sugar and cocoa powder. Mix well. Turn off the heat and add the honey.

Pour warm mixture over the oats and mix until everything is well combined and moistened. (I like to use my fingertips for this. It's messy, but it assures that everything get blended. Plus, a good finger-squeezing results in occasional crunchy clusters in the final granola.)

Transfer to a lightly-greased or parchment-lined baking sheet. Spread the mixture out so there's a fairly even layer.

Bake for 30 to 35 minutes - stirring and flipping every 10 minutes. Remove from oven and allow granola to cool completely. It will get crispy as it cools.

For Double Chocolate Granola, stir in 1/2 cup of mini-chocolate chips once granola cools. (You can add chips while the granola is still warm. The chips will melt and create even more clusters - be sure to stir the granola once after the chips begin melting. This option gets pretty messy, but it's fun if you want to try it. I'll often add half the chips while the granola is warm and half once it's cool.)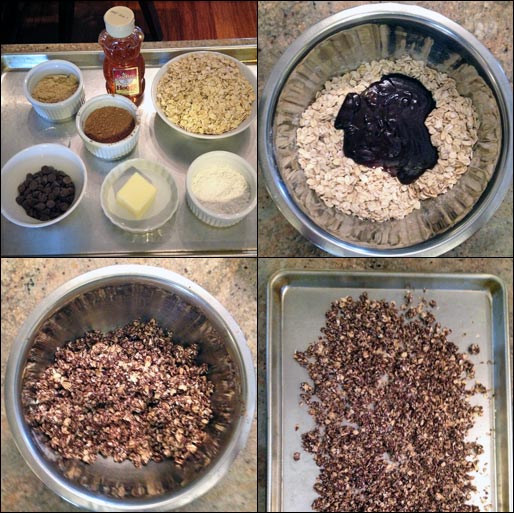 Cooking Note: You can usually tell that your granola is ready to come out of the oven when you notice that a couple of the straggling oats are starting to brown. If this happens after only 20 minutes, your oven may be running hot. Reduce the heat to 250 degrees and continue cooking for 5 to 10 minutes.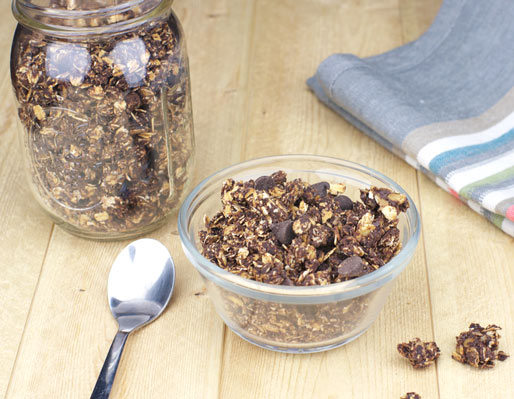 A reliable, kitchen-tested chocolate granola. If desired, you can add chocolate chips at the end and get Double Chocolate Granola.




Mr Breakfast would like to thank Mr Breakfast for this recipe.

Recipe number 3165. Submitted 2/27/2013.