Oranges With Honey And Jalapeno

(4 servings)

4 medium oranges (preferably a mix of different kinds)
2 Tablespoons honey
1/2 red or green jalapeno pepper - finely chopped
Cut each orange into 1/2-inch slices. Use biscuit cutters to cut away the peel and create perfectly round slices. Arrange the slices - partially overlapping - on a serving platter. Drizzle honey evenly over the slices. Sprinkle the oranges with the finely chopped jalapeno.

Let set for 15 to 30 minutes at room temperature. Serve as a side dish with your favorite breakfast entree.

This recipes looks and tastes best if you use a selection of different oranges and tangerines. My favorite mix is a combination of 2 navel oranges, a blood orange and a tangerine.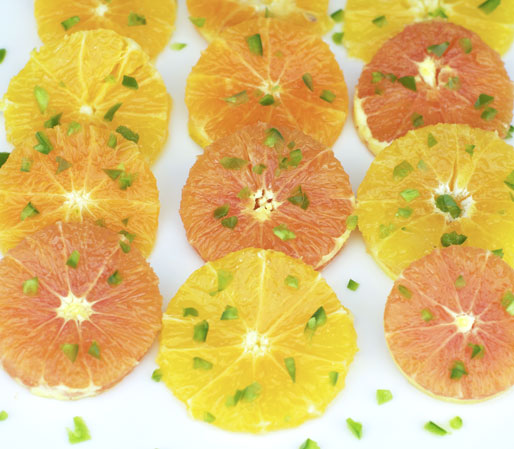 Spice up your oranges with some chopped jalapeno. A drizzle of honey offsets the pepper so the oranges have just enough heat to surprise your senses. A great breakfast side dish!




Mr Breakfast would like to thank Mr Breakfast for this recipe.

Recipe number 3161. Submitted 1/19/2013.