French Toast Bites

(4 servings)

6 slices bread from a small loaf of lemon or poppy seed bread
2 large eggs
1/2 cup milk
1/4 teaspoon vanilla
1 pinch salt
butter for frying - about 2 Tablespoons
Cut the bread slices into bite-size pieces.

In a mixing bowl, combine the eggs, milk, vanilla and salt. Beat until well combined.

Transfer the bread pieces to a medium casserole dish. Pour the egg mixture over the bread. After 1 minute, gently turn the pieces over so the other side can absorb the custard.

Place a large frying pan or a skillet over medium heat and melt 2 Tablespoons butter. Transfer the bread pieces to the pan. When lightly browned on the bottom (about 3 minutes), flip the pieces and brown the other side (about 2 minutes).

If working in batches, add more butter to the pan as needed.

Serve with maple syrup or other topping as dipping sauce.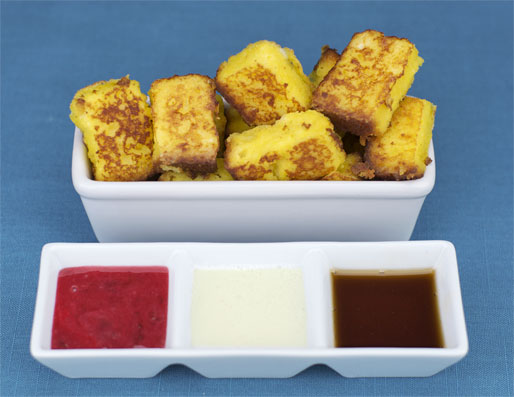 A fun way to turn regular French toast into a finger food or an appetizer.




Mr Breakfast would like to thank Mr Breakfast for this recipe.

Recipe number 3155. Submitted 12/15/2012.