Tuscan Scramble

(2 servings)

5 eggs - beaten
1/2 cup ricotta cheese
2 small red or yellow peppers
1/2 onion
1 bunch (8-10 leaves) kale - ribs removed
1 Tablespoon extra virgin olive oil
1/4 teaspoon salt
1 dash of pepper
1/4 cup shredded Italian cheese (i.e.Parmesan or Asiago)


Simple Basil Pesto:
1 bunch basil - finely chopped
1/8 cup extra virgin olive oil
1/8 cup walnut oil
1/8 teaspoon hot pepper flakes
1/8 teaspoon salt - or to taste
Start by making the basil pesto, if using. Take the bunch of basil, remove the leaves, and finely chop by hand using a chef's knife. You should have about 1/2 cup of basil when finished. Mix in the olive and walnut oils. (If you don't have walnut oil, double the olive oil) and add in the salt and hot pepper flakes to taste. Set aside.

Beat the eggs then whisk in the ricotta cheese until combined. Add in salt and pepper to the egg mixture.

Heat a medium/large non-stick pan, add 1 Tablespoon of olive oil. Chop the peppers and onion and saute them until the onions begin to turn translucent. Remove the woody ribs from the kale, and tear or coarsely chop into 1 inch pieces. Add to the onions and pepper and saute until the kale begins to wilt.

Add the egg mixture to the vegetables. Continue to gently fold the eggs as they set, until it is fully cooked and combined with the vegetables. Top with the shredded cheese.

Divide the scrambled eggs into two dishes, drizzle 1-2 teaspoons of basil pesto on top, and serve with grilled bread or toast.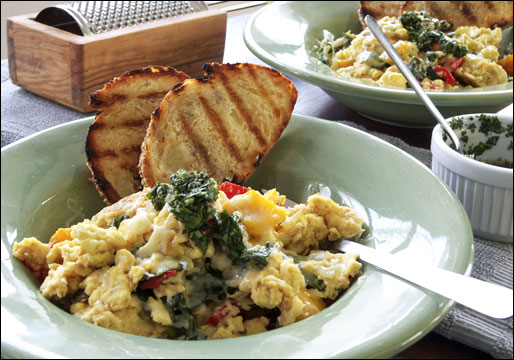 A delicious scramble with Tuscan kale, ricotta cheese and other Italian flavors topped with a simple basil pesto. Buon appetito!




Mr Breakfast would like to thank brekkiebaby for this recipe.

Recipe number 3146. Submitted 11/19/2012.