Baked Peanut Butter Banana Donuts

(12 servings)

2 medium ripe bananas
1 teaspoon lemon juice
1 cup cake flour
1 cup all-purpose flour
2/3 cup sugar
2 teaspoon baking powder
1 teaspoon salt
1/2 teaspoon nutmeg
1/2 teaspoon cinnamon
2 Tablespoons buttermilk
2 eggs + 1 egg yolk
2 Tablespoons melted butter
1 teaspoon vanilla
peanut butter icing (recipe below)
1/4 cup chopped nuts
Preheat oven to 375 degrees. Grease a 12-cup donut pan or two 6-cup pans.

In a medium bowl, mash the bananas with the lemon juice.

In a large bowl, mix together the flours, sugar, baking powder, salt, nutmeg and cinnamon.

In a separate medium bowl, beat the eggs and egg yolk with the buttermilk. Stir in the melted butter and vanilla.

Add the wet ingredients to the dry ingredients and mix until just combined. Fold in the mashed bananas.

Fill the donut molds 3/4 full. Bake for 12 to 14 minutes until golden brown.

When donuts have cooled, invert pan to loosen. Dip the tops of each donut in warm icing (recipe below) and top with chopped nuts while icing is still warm.

Let the donuts set for 10 minutes until the icing firms up. Dig in!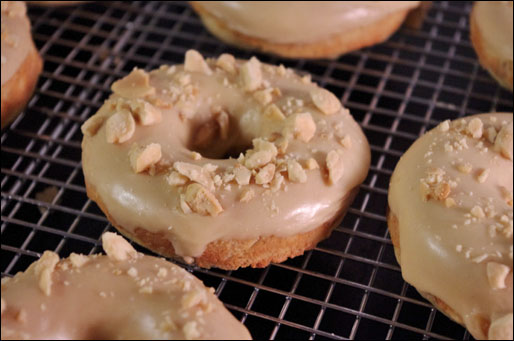 To Make Peanut Butter Icing

3 Tablespoons hot water
2 Tablespoons peanut butter
2 cups powdered sugar
1/8 teaspoon vanilla
1/8 teaspoon meringue powder (optional but recommended)
3 Tablespoons heavy cream (possibly more to smooth consistency)

Stir peanut butter and hot water together until fairly smooth. Combine powdered sugar and meringue powder in a mixing bowl. Add peanut butter mixture and cream to the powdered sugar and stir briskly until smooth like a very thick syrup. Add more cream by the teaspoon if needed. Place the mixing bowl over a pan filled with hot water to keep icing fluid and warm.


It's Bananas! It's Nuts! It's Baked Banana Walnut Donuts Topped With Peanut Butter Icing & Chopped Nuts. I used Marcona Almonds from Spain. Get donut shop satisfaction from your own oven.




Mr Breakfast would like to thank Mr Breakfast for this recipe.

Recipe number 3145. Submitted 11/7/2012.