Egg And Sausage Hand Pies

(8 servings)

2 and 1/4 cup all-purpose flour
1/3 cup sugar
1/2 teaspoon salt
1 cup salted butter (2 sticks) - chilled and cut into small cubes
ice water - as needed
6 ounces breakfast sausage
4 large eggs
2 Tablespoons milk
salt and pepper - to taste
1/3 cup shredded cheddar cheese
1 additional egg - beaten
Part 1: The Dough

In a large bowl, mix together the flour, sugar and salt. Add the butter and blend using your finger tips. Keep blending for a couple minutes to create a crumbly mixture where the largest piece is no bigger than a pea.

Add 6 Tablespoon of ice water and mix with a spatula. Continue mixing - adding ice water 1 Tablespoon at a time - until a dough comes together. (I used 8 total Tablespoons of water to make the hand pies pictured here).

Form the dough into a ball and flatten into to a disk. Wrap in plastic and refrigerate for 2 hours.


Part 2: The Filling

In a large frying pan over medium high heat, cook and crumble the breakfast sausage.

In a medium bowl, beat the eggs with the milk.

Drain off any excess grease from the sausage. Pour in the egg mixture and stir and scramble until egg is almost completely set, but still quite moist. Season to taste.


Part 3: Assemble

Turn the dough out onto a lightly floured surface. Roll or pat down the dough until very thin - about 1/16 inch. Use a 4-inch biscuit cutter to cut out 16 disks. You'll probably have to gather the dough scraps and re-roll to get the final 2 disks.

Take 8 of the disks and brush along their edges with beaten egg. Sprinkle cheese in the center of each, followed by about 2 Tablespoons of filling. Cover those disks with the remaining disks to form 8 pies. Crimp the edges of each pie with a fork to seal. Use the biscuit cutter to make clean edges.

Transfer pies to a parchment-lined baking sheet and refrigerate for 1 hour.


Part 4: Bake

Preheat oven to 425 degrees. Cut a slit in the top of each pie with a sharp knife so steam can escape. Brush the top of each pie with beaten egg.

Bake for 16 to 20 minutes until golden brown. Let cool 5 minutes before eating.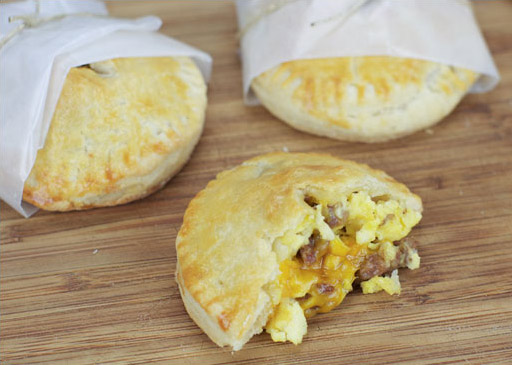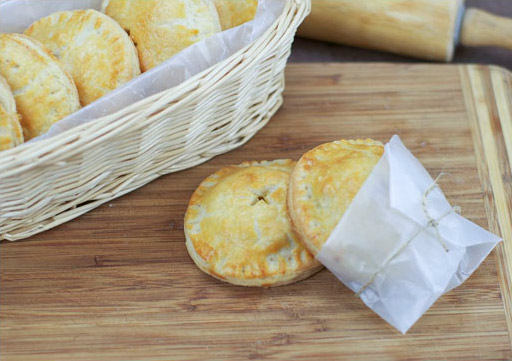 Make your own breakfast hot pockets. They're great fresh from the oven or you can refrigerate them and warm them in the microwave for a homemade egg breakfast on the go.




Mr Breakfast would like to thank Mr Breakfast for this recipe.

Recipe number 3144. Submitted 10/31/2012.