Smoked Salmon Scrambled Eggs

(4 servings)

8 large eggs
2 Tablespoons milk
1 Tablespoons butter
1/2 cup (about 3 ounces) smoked salmon - coarsely chopped
1/2 teaspoon chopped chives
1/2 teaspoon fresh or dried dill
pepper - to taste
In a medium mixing bowl, beat the eggs with the milk until fully combined and frothy.

Place a large frying pan over medium heat. Add the butter. When almost fully melted, tilt and swirl pan so butter coats entire cooking surface.

Add the beaten eggs and let them set a few seconds until they just begin to set on the bottom. Push the cooked egg to the center of the pan with a spatula - allowing uncooked egg to flow around the pan. When the egg is nearly fully set, flip the entire mass and break up any large curds.

Turn off heat. Sprinkle in the chopped salmon and dill. Stir and scramble to combine.

Transfer to 4 plates. Sprinkle each serving with freshly ground black pepper and chopped chives.

Note: The salmon will be salty, so you probably won't need additional salt.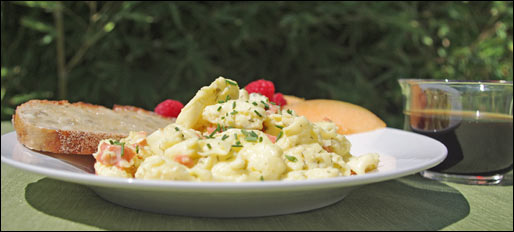 A brunch classic. Smoked salmon (aka lox) adds a rich, smoky and salty flavor to scrambled eggs. Goes great with toasted bagels or toasted rye bread.




Mr Breakfast would like to thank Mr Breakfast for this recipe.

Recipe number 3133. Submitted 9/17/2012.