Chocolate Banana Oatmeal

(2 servings)

2 cups boiling water
1 cup rolled oats
pinch of salt
1/2 cup brown sugar
1 banana - mashed
1/4 cup semisweet chocolate chips
In a saucepan, bring water and salt to a boil. Reduce heat to low and stir in the oats. Simmer 5 minutes uncovered, stirring occasionally. Remove from heat, cover, and let stand 3 minutes. Stir in brown sugar, banana and chocolate chips.

Note From Mr Breakfast::
I recently tried this recipe (May 15, 2013) and thought the flavor combination of bananas and chocolate was dynamite. Thanks to 'caroline' for the submission! The only thing I changed was to use less than brown sugar. I found that 1 or 2 Tablespoon of brown sugar is all you need. Any more and the oatmeal is too sweet. My advice is to mix everything together as stated... except for the sugar. Then at the end, add brown sugar a Tablespoon at a time until it has the perfect sweetness for you.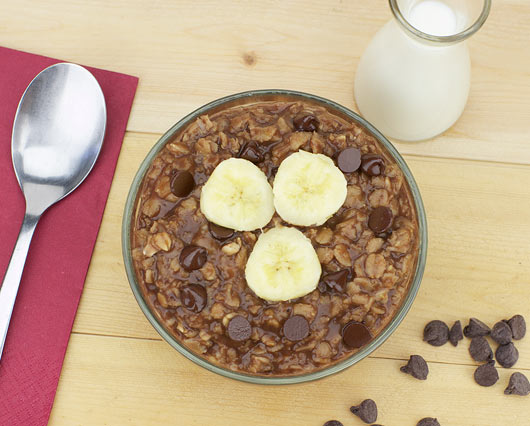 Old Fashioned oats mixed with mashed banana and chocolate chips. Takes about 10 minutes to make.




Mr Breakfast would like to thank caroline for this recipe.

Recipe number 313. Submitted 7/10/2002.