Extra Crispy Hash Browns

(4 servings)

2 medium baking potatoes (like Russet or Idaho)
2 Tablespoons canola oil or peanut oil
salt and pepper - to taste
Peel and rinse the potatoes. Using the largest holes of a box grater, shred the potatoes. Remove as much liquid as possible from the potatoes by pressing through a colander or squeezing in a clean dish towel.

Heat oil in a large frying pan over medium-high heat. Test the oil by placing a single shred of potato in the pan. If it sizzles, place 1/2 of your potato mixture in the pan and press it down with a spatula. Season to taste. Cook for 5 minutes. Flip the potatoes over and cook 5 additional minutes. Transfer to stacked paper towels to remove excess grease.

Fry the remaining potatoes, adding one more Tablespoon of oil to the pan between batches.

To keep everything warm while cooking in batches, place cooked hash browns on a cookie sheet in an oven set to 225 degrees.

Note: If you like onions in your hash browns, chop 1/4 medium-sized onion and mix it in a bowl with the shredded potatoes before frying.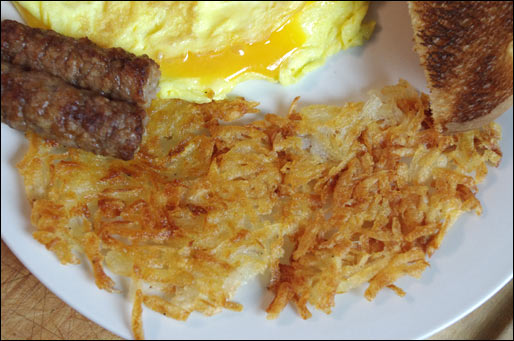 If you've ever had super crispy hash browns in a restaurant and want to recreate it at home, this 3-ingredient recipe is all you need.




Mr Breakfast would like to thank Mr Breakfast for this recipe.

Recipe number 3124. Submitted 7/24/2012.