Bacon Breakfast Cups

(4 servings)

2 slices of bread - white or wheat
4 slices of bacon
4 large eggs
salt and pepper - to taste
Preheat oven to 400 degrees. Prepare 4 cups of muffin tin by spraying generously with cooking spray.

Place the bacon slices on a rimmed baking sheet. Bake for 12 minutes.

Flatten the two slices of bread with a rolling pin and use scissors or a 2 and 1/2 inch biscuit cutter to get two rounds from each slice of bread.






Remove the bacon from the oven and place on stacked paper towels to remove excess grease. Reduce oven temperature to 375 degrees.

When bacon is cool enough to touch, yet still warm and flexible...

Line the bottom of each prepared muffin cup with a piece of bread. Line the side of each cup with a rounded piece of bacon. Crack an egg into the center of the cup you created, being careful not to crack the yolk.

Bake for 18 minutes until the whites are completely set and the yolk is still slightly runny. (Bake 2 additional minutes for fully cooked yolks.)

Run a knife around the edge of each cup and lift out with a spoon.

Serve warm. Enjoy!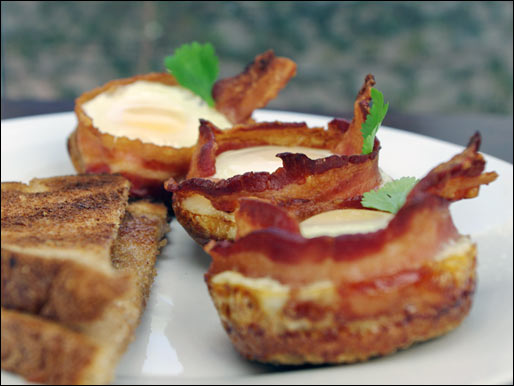 Cooking Notes, Etc:

For Cheesy Bacon Cups, sprinkle a Tablespoon of your favorite shredded cheese over each cup a minute or two before you remove the muffin tin from the oven.

This dish can be prepared without the bread. I like using the bottom toast layer because it gives the Bacon Cups more stability and you can eat them like muffins.

You may have seen similar pictures elsewhere of this type of recipe where the yolk is vibrant and yellow. Those pictures are lies. The yolk will will appear a bit clouded over. After cooking 18 minutes, the yolks will still be just a little runny if you'd like to have toast standing by for "dippy eggs". Tip for photographers: If you let these muffin cups sit out for 20 minutes, the yellow of the yolk shows through more. Tip for food lovers: Don't do what I told the photographers to do.


A cup made out of bacon and toast cradles a baked egg for a self-contained breakfast you're sure to enjoy (especially if you love bacon).




Mr Breakfast would like to thank Mr Breakfast for this recipe.

Recipe number 3116. Submitted 6/6/2012.