Easter Bunny Pancakes

(1 serving)

1 pancake
2 slices banana
2 blueberries
1 slice strawberry
jam or syrup
2 mini-marshmallows
2 thin slices cantaloupe or honeydew melon
For the pancakes, you can use a mix, make them from scratch, or even use frozen pancakes (heated, of course). If using a batter, use about 1/3 cup to make each pancake about 5-inches in diameter.

You don't really need any directions for this one if you just look at the picture, but here's what to do:

Place a pancake on a plate. Use the banana slices to make the eyes and the blueberries to make them blue.

Place a slice of strawberry for the nose. Using a small spoon and a gently touch, drizzle jam or syrup to make a mouth. You could also use cake icing. Lay down two mini marshmallows to act as teeth.

Finally, place the two slices of melon on top of the head (pancake) to act as the ears.

Eat your Easter Bunny! Enjoy!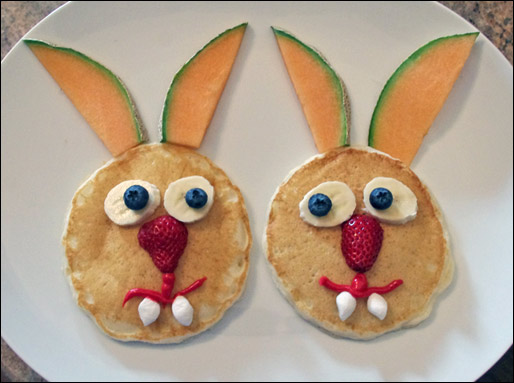 A cute idea to make Pancake Bunnies for Easter. Easy and fun for kids to join in the preparation. Come up with new ways to make them unique. Licorice whiskers? An apple slice bow tie? Hop to it!




Mr Breakfast would like to thank Mr Breakfast for this recipe.

Recipe number 3103. Submitted 4/4/2012.