Peanut Butter And Jelly Waffle Sandwiches

(4 servings)

1 and 1/4 cup all-purpose flour
2 Tablespoons sugar
1 Tablespoon baking powder
1/4 teaspoon baking soda
1/4 teaspoon salt
2 large eggs
1 and 1/4 cup milk (water will also work)
5 Tablespoon creamy or crunchy peanut butter
3 Tablespoons butter - melted
your favorite jelly or jam - for filling
additional peanut butter - for filling
You can easily make this same recipe with a waffle mix. Just stir a couple Tablespoons of peanut butter into the waffle batter before making the waffles. The recipe that follows is for making them from scratch.



Preheat your waffle maker.

In a large mixing bowl, mix together the flour, sugar, baking powder, baking soda and salt.

Separate the egg yolks and egg whites into two separate mixing bowls. To the egg yolks, add the milk, peanut butter and melted butter. Mix well. For the egg whites, beat them with an electric beater until stiff peaks form.

Add the egg yolk mixture to the dry ingredients. Stir until just mixed and moistened (try not to over mix). Fold in the beaten egg whites.

Bake waffles until golden brown according to the instructions for your particular waffle maker.

Make peanut butter and jelly sandwiches using waffles as bread.

Enjoy!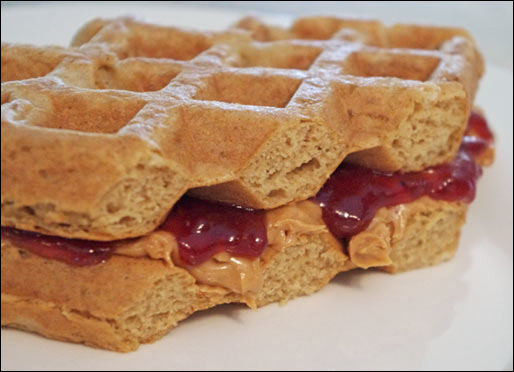 These waffles get a double burst of peanut butter - in the batter and as a filling. Try them for National Peanut Butter and Jelly Day on April 2nd.




Mr Breakfast would like to thank Mr Breakfast for this recipe.

Recipe number 3102. Submitted 4/2/2012.