Chewy Almond Date Granola Bars

(12 servings)

1 stick (1/2 cup) unsalted butter
1/3 cup honey
1/2 cup packed brown sugar
1/4 cup pure maple syrup
2 cup old-fashioned or quick oats
2 Tablespoons all-purpose flour
3/4 cup sliced or slivered almonds - toasted
1/2 cup shredded unsweetened coconut
1/3 cup chopped dates
1/4 teaspoon salt
4 ounce (about 2/3 cup) chocolate chips - optional
1/2 teaspoon canola oil - optional
This recipe makes 12 bars.

Preheat the oven to 325 degrees.

Grease an 8-inch square baking pan with a generous amount of cooking spray. Line the bottom of the pan with parchment paper.

In a small saucepan over medium heat, melt the butter. Add the honey, brown sugar and maple syrup. Stirring often, cook until well combined - about 3 minutes.

In a large mixing bowl, stir together the oats, flour, almonds, coconut dates and salt. Pour the liquid ingredients into the mixing bowl and stir until completely combined and moistened.

Transfer mixture to prepared pan. Pat down into an even layer with a rubber spatial.







Bake for 22 minutes until just browned on the edges. Remove from oven and allow to cool almost completely.

Run the tip of a knife around the edges of the pan. When free, invert the square onto a plate or tray. Cut the square in half and then cut each half into 6 bars.

If Adding Chocolate:

Be sure to allow the bars to cool completely before frosting.

Place the chocolate in a microwave-safe bowl. Microwave for 30 seconds. Stir. Microwave 30 seconds more. Stir. Repeat until chocolate is completely smooth. Stir in the canola oil.

Dip the very top of each bar into the chocolate. Refrigerate or place somewhere cool until chocolate is set.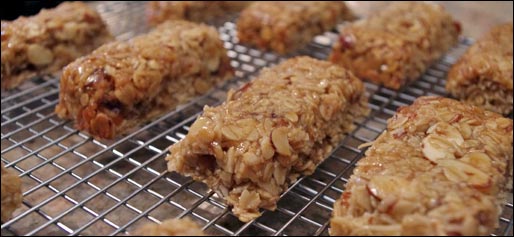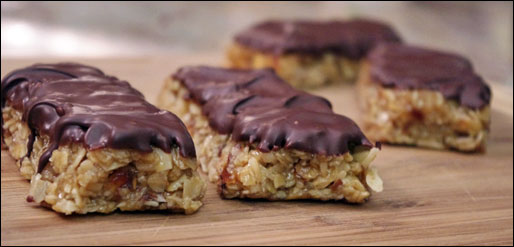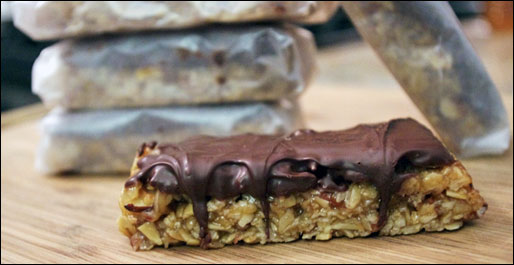 Cooking Notes:

These are chewy granola bars as opposed to crispy, dry, easily-broken granola bars. The edges may be slightly crisp, but the body is tender, bendable and delicious.

Chopping dates by hand is a frustrating process because they're so sticky. Here's a tip. Place a couple Tablespoons of oats in a food processor. Pulse until it creates a flour. Add the dates and pulse until coarsely chopped. Pour into a wire sieve and shake off the oat flour. The dates should be chopped just right and the pieces won't stick together.

When these bars are removed from the oven, they will be very soft. They firm up as they cool. When the square is just a little bit warmer than room temperature, cut the bars. They're easier to cut then than when they completely firm up.

Regarding chocolate: It's tempting to try to get as much chocolate on each bar as possible. As fun as "extreme chocolate" sounds, resist adding too much chocolate. A thin layer is optimal. Otherwise, the chocolate dominates all of the other flavors and you loose the wholesome flavors of your wholesome creation.

If the chocolate starts to harden mid-way through frosting, microwave the chocolate for 15 or 20 seconds more.

To toast almond slices: Place a large frying pan over medium-high heat. Add the almonds. Stirring and flipping often, cook the almonds until lightly browned and fragrant.


Chewy granola bars loaded with chopped dates, almonds and coconut. Great with or without chocolate. Perfect for breakfast on the go.




Mr Breakfast would like to thank Mr Breakfast for this recipe.

Recipe number 3098. Submitted 3/14/2012.