Eggs Blackstone

(4 servings)

4 English muffins
8 eggs
8 half-inch slices tomato
1 Tablespoon butter
16 slices bacon - crisp-cooked and crumbled
Hollandaise sauce (recipe included)
Split muffins with a fork; toast. Poach eggs to desired doneness in simmering water.

While eggs cook, melt butter in a skillet over medium heat; brown tomato slices on both sides in butter.

Place a tomato slice on each muffin half and sprinkle with some of the crumbled bacon. Place a poached egg on top and cover generously with Hollandaise sauce. Sprinkle lightly with remaining bacon and serve immediately. Makes 4 servings.

Hollandaise Sauce: Cut 1 cup of butter in 12 equal pieces. In top of double boiler combine 4 egg yolks, 3 Tablespoons lemon juice and 4 pieces of the butter; place over simmering water and stir rapidly with a wire whisk till butter melts. Add remaining butter 1 piece at a time, stirring till each piece melts before adding another. Add a dash of cayenne and serve immediately. (If sauce starts to thicken before it is served, add a small amount of boiling water while stirring.) Makes 1 and 1/2 cups.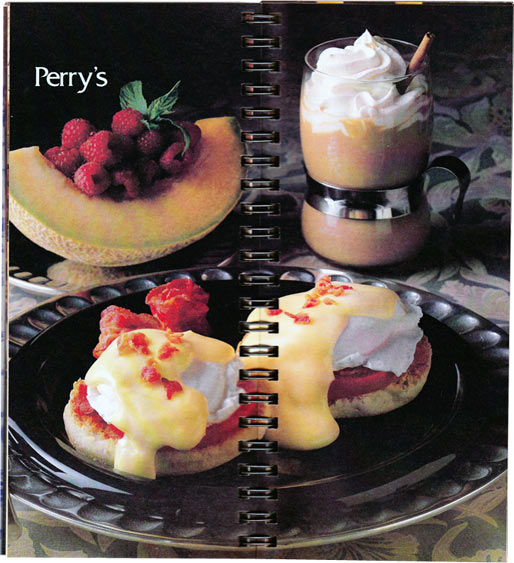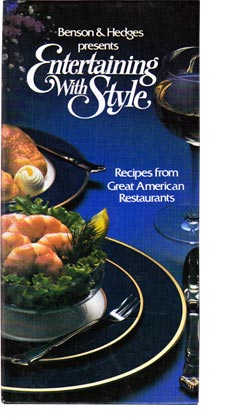 About This Recipe:

This is a classic recipe from an out-of-print 1980 mini-cookbook called Benson & Hedges presents Entertaining With Style: Recipes from Great American Restaurants. The book credits this dish to a restaurant called Perry's in San Francisco, CA where it was part of their weekend brunch. It's suggested that this dish be served with Coffee Royale which is 2 Tablespoons brandy mixed with 1/2 cup coffee that's topped with whipped cream and grated orange peel.

The book describes Perry's in San Francisco like this: "When you visit Perry's and sit down at a table, your waiter directs your glance to the boldly painted menu on the wall. It's all part of the casual attitude and colorful decor of this popular San Francisco restaurant. There's a wide assortment of unbeatable favorites - lasagna, quiche, omelets, corned beef hash, skewered lamb, and much more. And who could pass up a cup of cappuccino - one of San Francisco's favorite coffee drinks."


A unique variation of Eggs Benedict featuring fried tomato slices and crumbled bacon.




Mr Breakfast would like to thank Mr Breakfast for this recipe.

Recipe number 3096. Submitted 3/8/2012.