Spanish Microwave Omelet

(4 servings)

1 Tablespoon butter or margarine
1/2 cup chopped onion
1/3 cup chopped green pepper
1 cup tomato sauce or tomatoes with bits
1/2 teaspoon salt
1/4 to 1/2 teaspoon hot pepper sauce
2 microwave omelets (instructions below)
In 4-cup measure, combine butter, onion and green pepper. Cook on high 4 minutes, or until onion is transparent. Add remaining ingredients (except omelets). Cook on high 5 minutes, or until mixture boils.

Prepare classic microwave omelets (per instructions below). Before folding in half, spoon one-fourth of the tomato mixture on each omelet. Fold and serve topped with remaining mixture.


Classic Microwave Omelet
(makes 2 servings)

- 1 Tablespoon butter or margarine
- 4 eggs
- 4 Tablespoons water
- 1/2 teaspoon salt
- 1/8 teaspoon freshly ground pepper

Place butter (or margarine) in 9-inch microwave-safe pie plate. Cook on high for 30 second or until melted. Beat remaining ingredients in a bowl; pour into pie plate. Cover with waxed paper. Cook on high 4 to 4 1/2 minutes, stirring once during cooking time. Let stand, covered, 1 to 2 minutes. Fold in half to serve.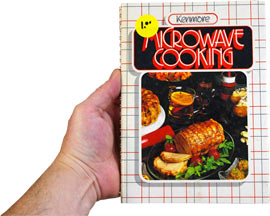 Thrift Store Score!

This recipe is from an out-of-print recipe and microwave oven instruction book from 1984 called Kenmore Microwave Cooking. If you can find it, it's pretty fun - especially the chapters Souper Duper Sandwiches, Budget-Wise Meat, Poultry Platters and Home Baked Goodness. Copyright is credited to The Benjamin Company, Inc.

A classic-style Spanish Omelet made completely in the microwave. Includes directions for a classic microwave omelet that you can use with other fillings.




Mr Breakfast would like to thank Mr Breakfast for this recipe.

Recipe number 3082. Submitted 1/3/2012.