Breakfast Quesadilla

(1 serving)

1 12-inch flour tortilla
3 large eggs
3 Tablespoons milk
1 Tablespoon butter
1/2 cup Cheddar cheese - shredded
2 or 3 Tablespoons black beans
1 Tablespoon cilantro - finely chopped
salt and pepper - to taste
salsa - for topping
Melt butter in a frying pan over medium heat.

Beat the eggs with the milk just until eggs white and egg yolks are combined.

Pour egg mixture into the hot frying pan. Allow the egg to barely set on the bottom and then start scrambling by pushing cooked egg toward the center of the frying pan with a spatula. Break up any large pieces that form. Add the cheese and continue to scramble until cheese is melted.

Place tortilla on an un-greased griddle or very large frying pan. Layer scrambled eggs down one half. Sprinkle cheese, black beans and cilantro over the eggs. Fold the uncovered half of the tortilla over the eggs and cheese. Cook until the bottom of the tortilla shows some browning. Flip the quesadilla and cook until all the cheese is melted.

Cut into 3 or 4 wedges and serve with salsa.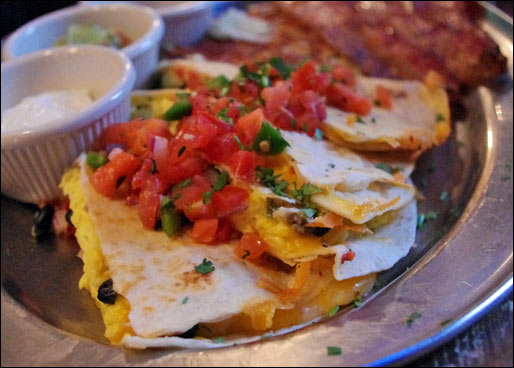 Cooking Note: For the black beans, you can use them directly out of the can - no need to cook them in advance. But if you have leftover cooked black beans, those will work great too.

This makes one very large serving or two small servings. Other topping options include sour cream, slices of avocado or guacamole.




Mr Breakfast would like to thank Mr Breakfast for this recipe.

Recipe number 3069. Submitted 11/21/2011.