Shakshouka (Egypt)

(4 servings)

4 eggs - lightly beaten
1 large onion - finely chopped
2 medium green peppers - finely chopped
2 large tomatoes - finely chopped
2 Tablespoons vegetable or canola oil
salt and black pepper - to taste
Heat oil in a non-sticking skillet.

Add the onion and the green pepper and toss until onion is light gold and the green pepper is translucent but do not burn.

Add tomatoes and toss until it is cooked and all liquids evaporate and you see holes on the surface with a ring of oil round it. Here, you add the eggs, salt and pepper until poach the eggs until cooked to your liking.

Serve with rolls or Arabian bread. Garnish each serving with chopped parsley or cilantro if desired.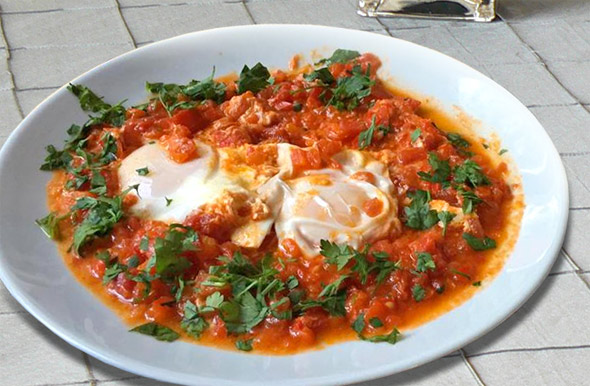 Eggs in a sauce of tomatoes, green peppers and onions. From Egypt. Also commonly spelled shakshuka.




Mr Breakfast would like to thank OBGal for this recipe.

Recipe number 3064. Submitted 11/6/2011.