Halloween Pumpkin Pecan Pie Granola

(12 servings)

3 and 1/2 cups rolled oats - quick cooking or old fashioned
1 cup chopped pecans and/or sliced almonds
1/3 cup brown sugar
1 Tablespoon pumpkin pie spice*
1/2 cup honey
2/3 cup unsweetened applesauce
2 teaspoons vanilla
1 cup raisins and/or or dried cranberries
1 handful orange & black M & M candies**
Preheat oven to 300 degrees. Have two baking sheets ready - coat lightly with cooking spray.

In a large bowl, mix together the oats, nuts, sugar and pumpkin pie spice. In a separate medium bowl bowl, mix together the honey, applesauce and vanilla.

Add the wet ingredients to the dry ingredients. Mix with clean hands until everything is moistened. Squeeze a few bits into clusters to give the granola a more interesting texture.

Spread the mixture out onto the two baking sheets.

Bake at 300 degrees for 40 minutes - stirring the granola every 10 minutes - until lightly browned. It might not seem crispy when you take it out of the oven, but it will crisp as it cools.

When completely cool, fold in the rains (and/or cranberries) and the M&M's.

Enjoy as a breakfast cereal or as a snack. It's a great thing to have around during the Halloween season.

Stores well up to a week in an airtight container.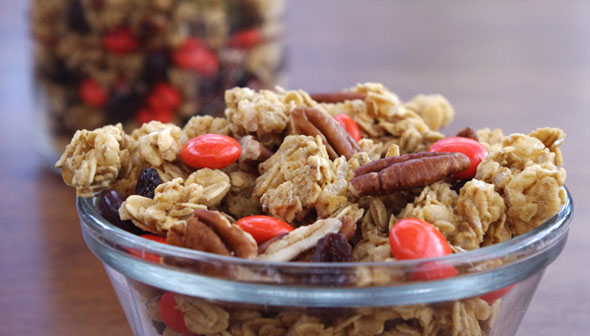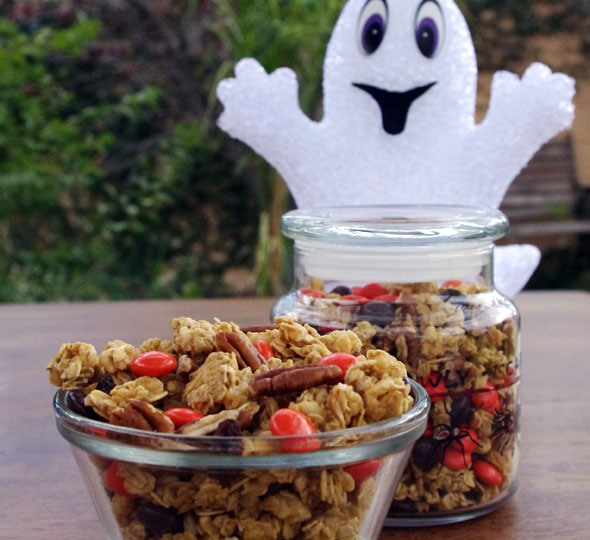 * If you don't have pumpkin pie spice, you can make your own. Just combine: 1 and 3/4 teaspoons ground cinnamon with 1/2 teaspoon ground nutmeg, 1/2 teaspoon ground ginger and 1/4 teaspoon ground cloves.

** Note From Mr Breakfast:

First, big thanks to "CornFlake" for submitting this fun idea. The pictures above are from a batch I made. My local grocery store didn't have the seasonal Halloween colored M & M's. So I went with Reese's Pieces candies instead. They're Halloween colored all year long.

I tried this granola as a cereal with milk. It was really good, but it's pretty obvious that many people would find it too sweet. As Halloween snack eaten dry, it's spook-tacular.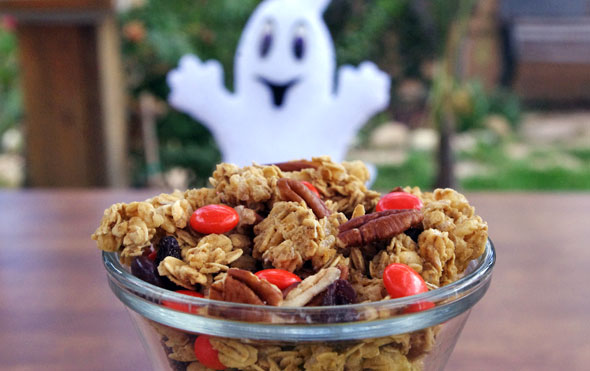 For even more pumpkin flavor, you can replace the applesauce with pumpkin puree mixed with a Tablespoon of milk or water. But the applesauce helps contribute to the holiday flavor. Happy Halloween!




Mr Breakfast would like to thank CornFlake for this recipe.

Recipe number 3055. Submitted 10/3/2011.