Double Chocolate Pancakes

(4 servings)

1 large egg
1 cup milk
2 Tablespoons melted butter
1 cup all-purpose flour
1/3 cup cocoa powder
1/4 cup sugar
1/2 teaspoon baking soda
1/2 teaspoon salt
1 teaspoon grated orange peel
1/2 cup chocolate chips
In a small bowl, beat the egg with the milk and melted butter.

In a separate medium bowl, mix together the flour, cocoa powder, baking soda and salt.

Add the egg mixture and the grated oaring peel to the dry ingredients and mix until just combined and moistened.

Heat a griddle or large frying pan to medium heat. Grease with a Tablespoon of butter per batch of pancake or a generous coating of cooking spray.

Dollop batter in 1/4 cup portions per pancake. Immediately sprinkle 6 to 10 chocolate chips over each pancake.

Cook until bubbles appear on the top and the edges appear dry - just 1 to 2 minutes. Flip each pancake and cook the other side about one minute or until browned.

Serve warm with your favorite topping.

Makes about twelve five-inch pancakes.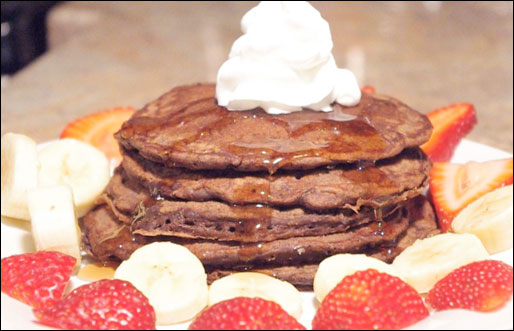 When making multiple batches of pancakes, keep finished pancakes on a cookie sheet in an oven set to 200 degrees until you're ready to serve.

Topping suggestions: maple syrup, fresh strawberries, fresh bananas, whipping cream, strawberry jam, chocolate syrup, peanut butter.


Cocoa powder in the batter and a sprinkling of chocolate chips make these double chocolate pancakes doubly delicious.




Mr Breakfast would like to thank Mr Breakfast for this recipe.

Recipe number 3042. Submitted 8/29/2011.