Cranberry Almond Crunch Surprise Oatmeal

(1 serving)

1/2 cup oats
1 cup water
1 Tablespoon dried cranberries
1 Tablespoon slivered almonds
1 pinch cinnamon
Bring oats and water to a boil in a sauce pan.Lower the heat and simmer until it is cooked to the desired thickness. When oatmeal is done mix in dried cranberries and almonds. Spoon into a bowl and top with a pinch of cinnamon.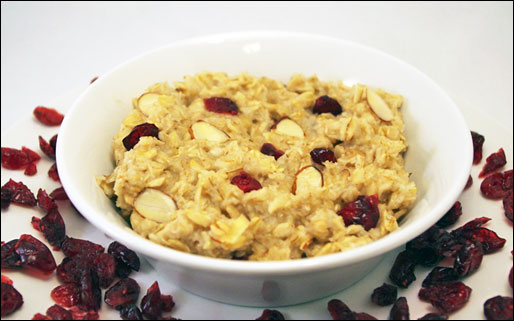 Notes From Mr Breakfast:

First of all, thanks very much to "Griffin" for this recipe submission. I made it this morning (6/11/11) and had just a couple suggestions.

For just a bit more of a well-rounded flavor, I liked adding 1/2 teaspoon of sugar and just an 1/8 of teaspoon of vanilla. Stir those in when you add the cranberries and almonds.

Another ingredient to consider adding is just the lightest amount of orange zest (no more than 1/8 teaspoon). You'll be surprised how much flavor and freshness that adds to any oatmeal.

Finally, a drizzle of fresh maple syrup is just the thing if you find you need a little more flavor or sweetness as you enjoy this dish.

Cranberries lend a fruity tang and almonds offer a surprising light crunch in this healthy oatmeal breakfast.




Mr Breakfast would like to thank Griffin for this recipe.

Recipe number 3033. Submitted 6/10/2011.