Brown Sugar & Walnut Baked French Toast

(6 servings)

1 medium loaf Challah bread cut into 1-inch cubes (enough to make 6 or 7 cups of non-packed bread cubes)
1 cup chopped walnuts - lightly toasted and cooled
1/3 cup packed brown sugar
6 large eggs
1 cup plain yogurt
1 cup milk
1/4 cup maple syrup
2 Tablespoons white sugar
1 teaspoon cinnamon
1 teaspoon vanilla
1/4 teaspoon salt
I love this recipe, especially during the holidays when time in the morning seems so limited. I simply put it together the night before and toss it in the oven when I get up. The house fills with the sweet smell of baking. It's a great way to start the day. As with most French toast recipes, make sure you choose a quality bread. I prefer Challah for this one. I hope you like this recipe as much as do. Have a great breakfast.


How To Make Brown Sugar & Walnut Baked French Toast

Prepare a 9x9 baking dish by coating the inside generously with butter or cooking spray.

Depending on the size of your walnut pieces, you may want to pulse them in the food processor just until they're crumbly but not pulverized.

Combine the walnut pieces and brown sugar and place mixture on a large plate. Set aside.

Place eggs in a large mixing bowl and beat until whites and yolks are combined. Add yogurt, milk, maple syrup, white sugar, cinnamon, vanilla and salt. Mix until well combined.

Take 1 large handful of the bread cubes and place them in the egg mixture. Toss to coat evenly. Transfer moistened cubes - a couple at a time - to the nut and brown sugar mixture. Roll the bread cubes in this mixture to coat all sides. Place in prepared baking dish. Repeat with moistened bread cubes until nut and brown sugar mixture becomes too wet to work with.

Place all remaining bread cubes in the egg mixture. Stir to coat all cubes. Layer moistened bread in the baking dish. Spoon remaining nut and brown sugar mixture over the bread cubes in the baking dish. Pour remaining egg mixture over all ingredients.

Cover with plastic wrap and refrigerate overnight - at least 6 hours.

When ready...

Bake at 350 degrees for 30 minutes. Allow dish to cool at least 10 minutes before cutting into squares. Serve warm with additional maple syrup.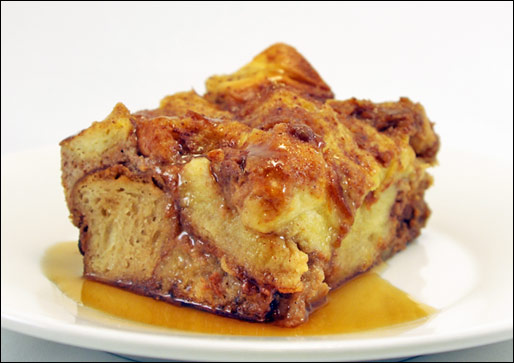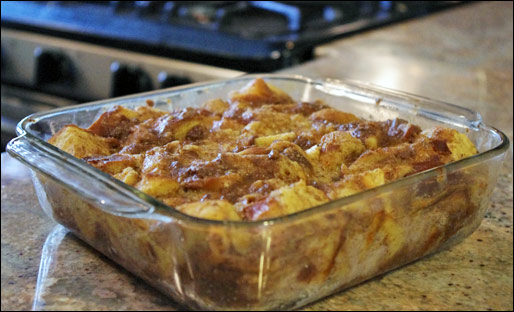 Cooking Notes:

To toast the walnuts, place them in a frying pan over medium-high heat. Cook - tossing occasionally - just until lightly browned and fragrant.

You could replace the plain yogurt with vanilla yogurt. Just omit the vanilla in the recipe.

For a creamier baked French Toast, you could replace the milk with an additional cup of yogurt, but expect more of the tangy flavor associated with yogurt.

If you don't have Challah bread, you can use any essentially white bread that can be cut into cubes. A French loaf works almost as well.

An overnight baked French toast with delicious streaks of nuts and brown sugar in each bite.




Mr Breakfast would like to thank Mr Breakfast for this recipe.

Recipe number 3024. Submitted 5/17/2011.