Drunken Pear Pancakes

(4 servings)

1 egg
3/4 cup milk
2 Tablespoons vegetable oil
2 Tablespoons pear liqueur or brandy
1 ripe pear cut into 1/4-inch dice (peeled and cored)
1 Tablespoon sugar
1 cup self-rising flour
Beat egg in a mixing bowl. Add milk, vegetable oil, pear liqueur, and diced pear - whisk together.

Add sugar and flour to wet ingredients - Gently fold in the dry ingredients - Do Not Over-Stir (pancakes will turn out tough).

Allow for a "lumpy batter" and let it rest for 10 minutes.

Using a 1/4 cup measure, pour batter onto lightly oiled griddle or pan at 350 degrees.

When bubbles form on top, and the edges have set, flip the pancakes.

Put a little butter on top of each pancake while the other side cooks.

Should cook in 4-5 minutes.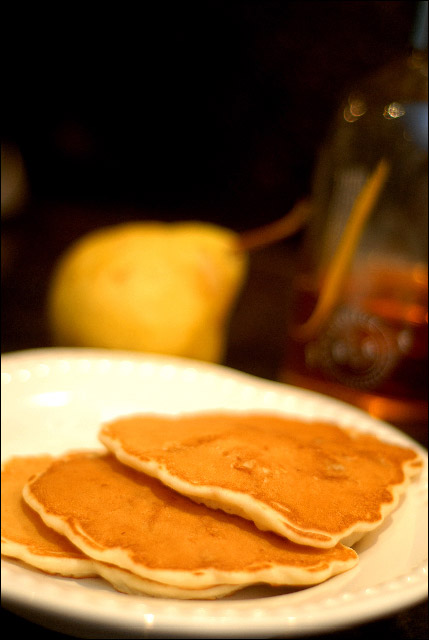 'Pear' with maple syrup or honey. Enjoy your breakfast... responsibly!




Mr Breakfast would like to thank Petit_Déjeuner for this recipe.

Recipe number 3023. Submitted 5/15/2011.