Cinnamon Flop (Coffee Cake)

(8 servings)

2 cups all-purpose flour
1 cup sugar
2 Tablespoons baking powder
1 pinch salt
1 cup milk
2 Tablespoons butter - melted
1 teaspoon vanilla


For The Topping:
1/2 cup brown sugar - packed
2 teaspoons ground cinnamon
1/4 cup butter - chilled and cut into small cubes
Preheat oven to 350 degrees. Prepare a 9 x 13 or 10 x 10 baking dish by spraying the inside generously with cooking spray.

In a large bowl, sift together the flour, sugar, baking powder and salt. Add the vanilla to the milk and give it quick stir. Add the vanilla milk and melted butter to the dry ingredients. Stir until just combined and moistened. Transfer to prepared baking dish and smooth level with a spatula.

In a small bowl, mix together the brown sugar and cinnamon. Sprinkle this mixture over the batter in the pan. Shake the pan gently to distribute the topping evenly. Scatter the small cubes of butter over the topping. Press each cube into the topping so they are barely visible.

Bake for 35 to 40 minutes or until a toothpick inserted into the center comes out clean.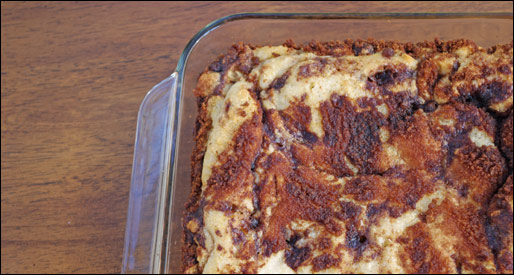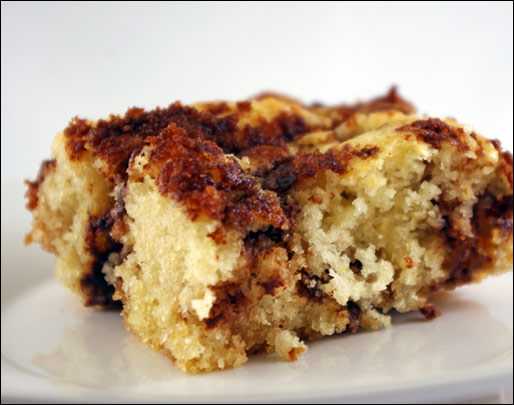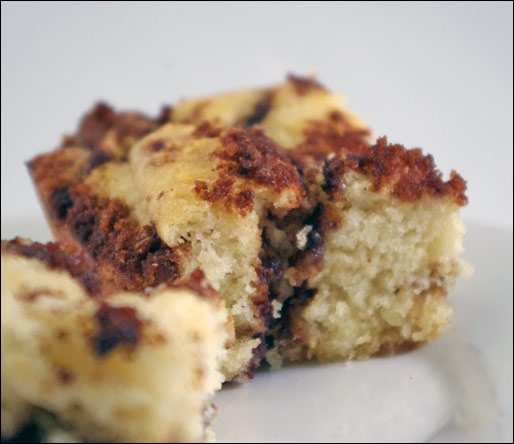 Recipe tips:

The beauty of the coffee cake are the little wells of extra flavor created by the random pockets of melting butter. Wait until the very last minute to cut your butter into small cubes. It'll be easier to work with.

Instead of a baking dish, you could use two small loaf pans.

Mid-way through the baking time, you have a chance to manipulate your topping. If it seems to be accumulating in the middle or on one side, open the oven and - carefully - push some of the topping over to bare spaces using a knife or chopstick.


In this coffee cake, cinnamon has a life of its own as it rides with brown sugar into bubbling bits of butter to make divots of gooey goodness.




Mr Breakfast would like to thank Mr Breakfast for this recipe.

Recipe number 3018. Submitted 5/4/2011.