Red Velvet Buttermilk Pancakes

(4 servings)

For The Pancakes:
1 cup all-purpose flour
1/4 cup cocoa powder
1/3 cup powdered sugar
1 teaspoon baking powder
1/2 teaspoon baking soda
1/2 teaspoon salt
2 large eggs
1 and 1/4 cups buttermilk
1 teaspoon fresh lemon juice
1/4 teaspoon vanilla
8 drops of red food coloring


For The Cream Cheese Topping:
4 ounces cream cheese or neufchatel cheese
1/4 cup powdered sugar
2 Tablespoons milk
1/2 teaspoon vanilla
1 drop of red food coloring
To make the topping:

Combine all ingredients in a bowl and whisk until smooth. Add one drop of food coloring and stir until topping is an even pink. Set aside.

To make the pancakes:

Combine the flour, cocoa powder, powdered sugar, baking powder, baking soda and salt in a large bowl. Mix well with a fork or whisk.

In a separate bowl, lightly beat the eggs. Add the buttermilk, lemon juice and vanilla and stir to combine.

Add the wet ingredients to the dry ingredients and mix until well combined. Add the food coloring and stir until the batter is an evenly colored deep red.

Place a skillet or large frying pan over medium-high heat. Spray generously with cooking spray or coat with butter.

Dollop 1/4 cup batter per pancake onto prepared skillet. When bubbles appear on the top and the edges appear dry, flip the pancakes and cook other side for 1 to 2 minutes.

Top each pancake with a generous smear of cream cheese topping.

Makes about twelve 4-inch pancakes.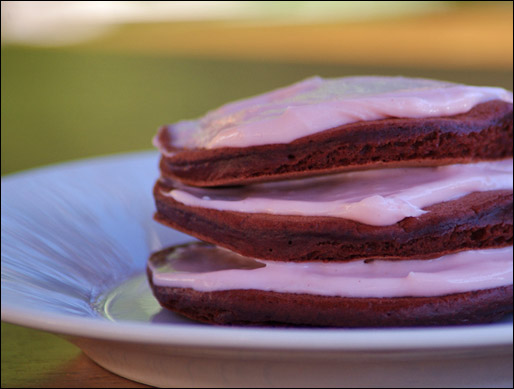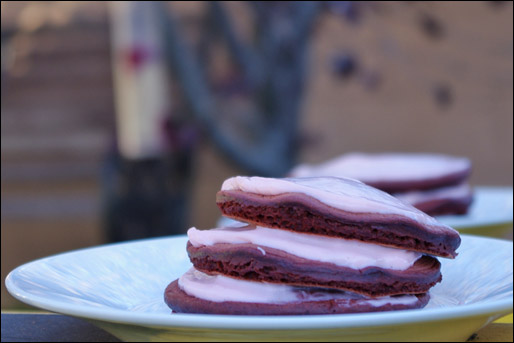 Recipe Tips:

To tint the topping pink, you only need the slighted bit of food coloring. Try dipping the tip of chopstick into the food coloring bottle and stir the topping with the chopstick. That should be all the coloring you need to give your topping a nice pink hue.

Make sure your pancake batter has a smooth, flowing consistency. If it seems too thick, add water by the Tablespoon until the consistency is just right.

Add CHOCOLATE CHIPS: The flavor of Red Velvet pancakes is sort of a muted chocolate. To kick up the chocolate, sprinkle 7 or 8 chocolate chips on each pancake as soon as you dollop the batter onto the griddle. Flip the pancakes as directed. Serve with the chocolate chip side down for optimal presentation. Now you have Red Velvet Pancakes... with bursts of chocolate.


Recipe Reality:

If you spread topping on the pancakes as soon as they come off of the griddle, the topping will partially melt away. The dish will still taste great, but it will look sad and worn. Wait until the pancakes are cooled just enough to hold comfortably in the hand and then spread the topping... now it's warm and pretty. Anytime you see a picture of perfect Red Velvet Pancakes, I guarantee the photo was taken with room temperature or chilled pancakes.


The secret ingredient in these beautiful pancakes is food coloring. Serving suggestion: Share them with someone you love.




Mr Breakfast would like to thank Mr Breakfast for this recipe.

Recipe number 3017. Submitted 4/27/2011.