Eggs Eiffel Tower

(4 servings)

2 slices of toast - white or wheat
2 slices of bacon - cooked and crumbled
8 Tablespoons shredded mozzarella (or favorite) cheese
6 eggs - carefully separated to keep yolks intact
1/4 teaspoon cream of tartar
1/8 teaspoon salt
1 teaspoon prepared mustard
Separate the eggs very gently. The yolks are meant to stay intact and hold their shape for this dish.

Place 4 ramekins on a baking sheet on your counter top.

Cut each slice of toast into two rounds - sized to fit comfortably in the bottom of a ramekin. Butter each round and place one round, butter-side-up, in each of the ramekins. Sprinkle the crumbled bacon evenly over each of the toast rounds. Cover the bacon with 1 Tablespoon of shredded cheese in each ramekin.

Beat the egg whites with the cream of tartar and salt until soft peaks form. Add the prepared mustard and beat until stiff peaks form. It's important that the egg whites are able to hold their shape as you proceed.

Preheat the oven to 300 degrees.

Spoon a heaping Tablespoon of egg white into each ramekin and gently smooth it out with the back of your spoon. Carefully, place one egg yolk over the bed of egg white in each ramekin. (Two yolks will be discarded.) Sprinkle with about 1/2 Tablespoon cheese per ramekin.

Add another layer of egg white and another 1/2 Tablespoon of cheese. Each dish will start to resemble a soft-serve ice cream cone. Add a final layer of egg white, building as tall as you can without the structure tipping.

Carefully transfer the baking sheet / ramekins to the oven and bake for 30 minutes or until the egg whites are golden brown. At 30 minutes, the yolk will be mostly solidified but soft and tender. Cook a few minutes more for a firmer yolk.

Serves 4.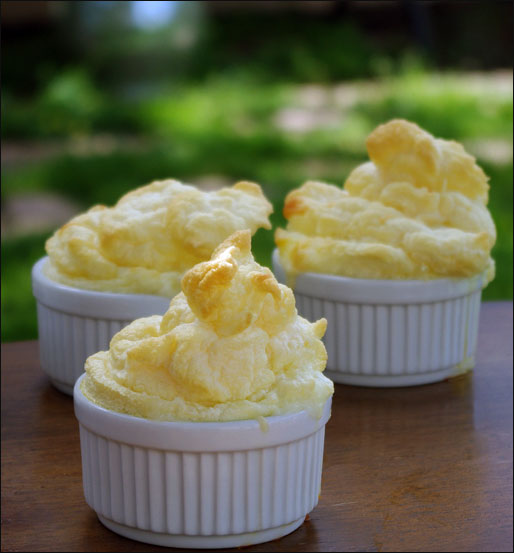 With or without cheese and bacon, this is a fun way to make and enjoy eggs. You can make a simplified version using just 4 eggs and 1/4 teaspoon cream of tartar. Separate the eggs as above; beat the whites and cream of tartar until stiff peaks form; create a bed of egg white in each ramekin; place an egg yolk on top; build towers with the remaining egg white; same cooking time. It's fun to eggs-periment!

Don't worry if your egg structure collapses or tilts a little. Several of my test dishes turned out more like the Leaning Tower of Pisa than the Eiffel Tower, but they were no less delicious or fun to eat.

Be sure to serve as soon as possible, the towers start to collapse in on themselves a few minutes after cooking. You've got about 2 minutes from oven to table for maximum attractiveness. Enjoy!


Other names for this dish might include Tender Egg Yolks In A Billowy Meringue or Hidden Treasures In A Cloud Of White.




Mr Breakfast would like to thank Mr Breakfast for this recipe.

Recipe number 3006. Submitted 3/29/2011.