Jelly Omelet

(2 servings)

4 large eggs
1/4 teaspoon salt
1 Tablespoon sugar
4 Tablespoons warm water
1 Tablespoon butter
2 or 3 Tablespoons jam (or jelly or marmalade) - for filling
additional sugar - for sprinkling
Preheat oven to 375 degrees.

Separate the egg yolks from the whites. In a large bowl, beat the yolks until thick and lemon colored. Add salt, sugar and water and stir to combine.

In a separate bowl, beat the egg whites until stiff and dry. The whites should barely slide if the bowl is tilted.

Heat an oven-safe 10-inch omelet pan or skillet over medium heat. Butter the sides and bottom of the pan.

Gently fold the egg whites into the yolk mixture until well combined. It should look as if the whites have absorbed the yolk mixture.

Add the combined mixture to the pan. Spread evenly with a spatula. Cook for 3 to 4 minutes. Gently lift the omelet's edge with a spatula after 3 minutes to check for doneness.

When well "puffed" and delicately browned underneath, place the pan in the center of the oven to finish cooking the top. The omelet is cooked if it is firm to the touch when pressed by the finger. If it clings to the finger like the beaten egg white, it needs to cook longer.

Spread desired amount of jam, jelly or marmalade over one half of the omelet. You may be tempted to use more jam than is listed. Resist. Too much jam will create a delicious, drippy mess.

Fold the uncovered half of the omelet over the jam. Turn out onto a plate and sprinkle with sugar.

Makes 1 large omelet suitable for 2 servings.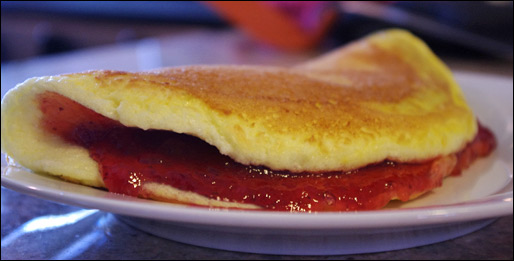 This is an updated and slightly modified version of a classic recipe from Fannie Merritt Farmer. The original recipe appeared her book The Boston Cooking School Cook Book, published in 1896.

The desert or sweet omelet has been popular for over a century. It's only in the last couple decades that it's gone out of vogue. This simplest version of a sweet omelet should encourage modern-day omeleteers to broaden their scope of possible omelet fillings. When a sweet filling is used in moderation, this type of omelet can be a unique breakfast option.

This is considered a "puffy" omelet. Stiffly beaten egg whites help create an omelet nearly double the size of an omelet where the whites and yolks haven't been separated. The texture of the egg is delicate and fluffy.

If the idea of jam and eggs doesn't appeal to you, try filling this omelet with savory fillings like cheese to experience the unique texture of the puffy omelet.


This fluffy, puffy sweet omelet is return to days gone by when berries and jam filled omelets as commonly as cheese. This recipe is an interesting study in what's possible in the realm of omelets.




Mr Breakfast would like to thank Mr Breakfast for this recipe.

Recipe number 2999. Submitted 3/9/2011.