Chocolate Cinnamon Buns

(12 servings)

3/4 cup warm water (not hot - 110 to 115 degrees)
1 package active dry yeast
1/4 cup shortening
1 teaspoon salt
1/4 cup sugar
1 egg
1/3 cup cocoa
2 and 1/4 cups sifted flour
1 Tablespoon butter - softened
1 and 1/2 teaspoons cinnamon
3 Tablespoons sugar
chopped pistachio nuts (or almonds or pecans)
In mixer bowl, dissolve yeast in warm water. Add shortening, salt, sugar, egg, cocoa and 1 cup flour. Beat 2 minutes, medium speed on mixer or 300 vigorous strokes by hand. Scrape sides and bottom of bowl. Stir in remaining flour; blend well. Scrape sides of bowl.

Cover with cloth; let rise in warm place (85 degrees) until double in bulk, about 1 hour. (If kitchen is cool, place dough on rack over bowl of hot water; cover completely with towel.) Stir down by beating 25 strokes. Turn soft dough out on well floured cloth-covered board. Roll into rectangle, 12 x 9". Spread with butter; sprinkle with cinnamon-sugar mixture. Roll up, beginning at wide side. Pinch edge into roll. Cut 12 pieces. Place in greased 9" square pan. Let rise in warm place (85 degrees) until double, about 40 minutes.

Heat oven to 375 degrees (quick mod.). Bake 25 minutes. Remove from pan, frost top immediately with icing (3/4 cup sifted confectioners' sugar moistened with cream or milk to spreading consistency.) Sprinkle with chopped nuts. Serve warm.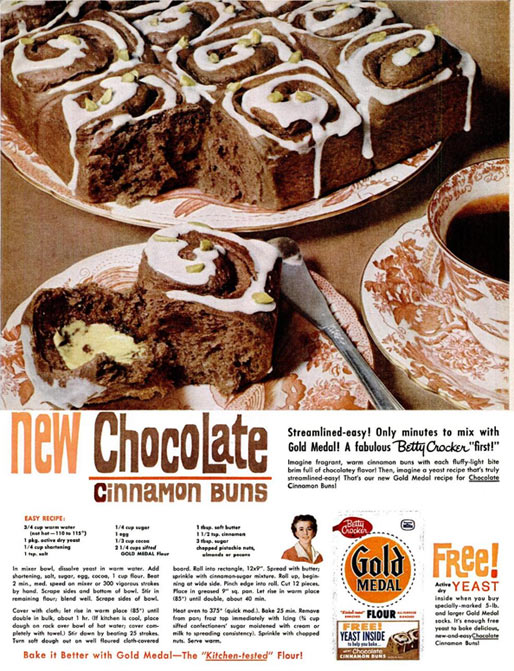 This recipe is from a 1960 magazine ad for Gold Medal Flour. Fragrant, warm cinnamon buns brim full of chocolatey flavor.




Mr Breakfast would like to thank Mr Breakfast for this recipe.

Recipe number 2983. Submitted 1/31/2011.