Elegant Eggs (Croustades)

(4 servings)

1/2 loaf of unsliced bread
4 eggs - poached and seasoned to taste
1 or 2 Tablespoons butter or Parkey Margarine
1/2 pound Velveeta Pasteurized Delicious Cheese Food
1/2 cup milk
For croustades, cut 1 and 1/2 inch slices of bread, trim crusts, scoop out a small amount from centers. Brush with melted butter or Parkay Margarine; toast on all sides.

Serve a poached egg in each with this rich velvet-smooth Velveeta sauce:

Melt 1/2 pound of Velveeta in the top of a double boiler; gradually stir in 1/2 cup of milk.

A really protein-rich main dish - so delicious with Veveeta's rich yet mild cheddar cheese flavor. Use spreadable Velveeta for nutritious sandwiches too.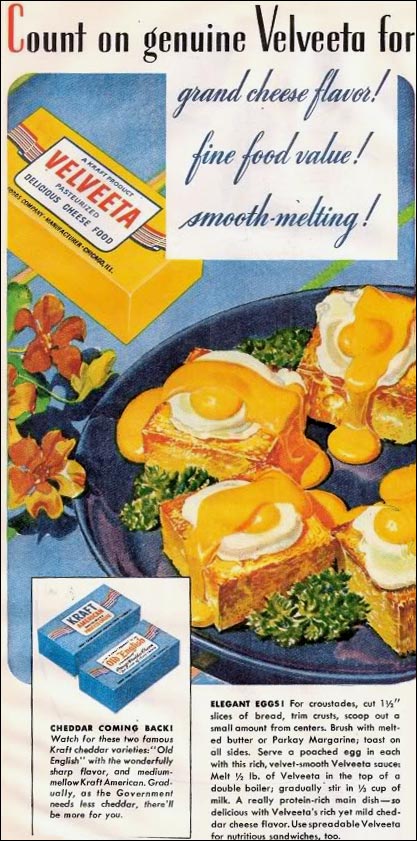 Count on genuine Velveeta for grand cheese flavor! Fine food value! Smooth melting! This recipe is from a vintage ad for Velveeta Pasteurized Delicious Cheese Food.




Mr Breakfast would like to thank Mr Breakfast for this recipe.

Recipe number 2980. Submitted 1/26/2011.