Shrimp Quiche

(4 servings)

1 9-inch deep pie shell
4 eggs
1 and 1/2 cups light cream or evaporated milk
3/4 teaspoon salt
1/2 teaspoon pepper
1 teaspoon tarragon
1 cup cooked shrimp or crab meat
1/2 cup cheese - shredded
1/4 cup green pepper and onion - chopped
Preheat oven to 400 degrees. Partially bake pie shell on lowest rack in oven for 8 minutes. Remove from oven and reduce heat to 350 degrees.

Lightly beat eggs, add cream, salt, pepper and desired seasonings. Spread shrimp, cheese, green pepper and onion in partially baked shell. Pour in egg mixture. Bake at 350 degrees for 35 to 40 minutes or until a knife inserted near the center comes out clean. Serve hot.

Makes 4 to 6 servings.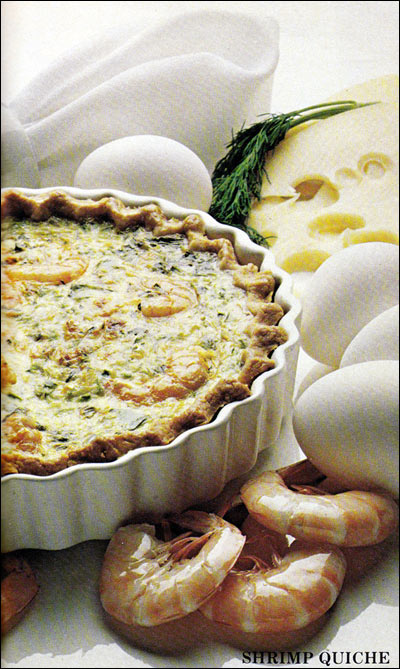 An elegant quiche for any meal from the Canadian Egg Marketing Agency as found in the book Entertaining With Eggs.




Mr Breakfast would like to thank Mr Breakfast for this recipe.

Recipe number 2969. Submitted 1/6/2011.