Tortilla Omlette

(1 serving)

1/4 cup chopped fresh tomato
2 large mushrooms - sliced
2 Tablespoons finely chopped green or sweet red pepper
1 Tablespoon diced onion
3 large eggs
1/4 cup milk
2 teaspoons minced fresh parsley
1/2 teaspoon dried basil
black pepper to taste
4 fresh spinach leaves
2 slices cheddar cheese
1 10-inch flour tortilla
2 slices deli ham
1 cup shredded cheddar cheese
sour cream and salsa - optional
In a 10-inch nonstick skillet coated with nonstick cooking spray, saute the tomato, mushrooms, green pepper and onion until tender; remove and set aside.

In a small mixing bowl, beat the eggs with the milk, parsley, basil and pepper. Pour mixture into skillet and cook over medium heat. As the eggs set, lift edges, letting the uncooked portion flow underneath. When the eggs are set, top with spinach, cheese slices and the tortilla.

Invert the pan onto a plate to flip omelet; return omelet to pan tortilla-side-down. Place ham and sauteed vegetables on one side of omelet. Sprinkle with 3/4 cup of the cheese; fold the omelet over the fillings.

Cover and let stand for 1 and 1/2 minutes until cheese is melted. Remove from the heat. Top with remaining 1/4 cup shredded cheese. Serve with salsa and sour cream if desired.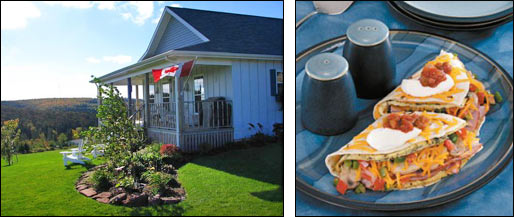 The Bonshaw Breezes Bed & Breakfast, Prince Edward Island.

An omelet wrapped in a tortilla shell... stuffed with fabulous fillings! This recipe is from the award winning Bonshaw Breezes Bed & Breakfast, Prince Edward Island.




Mr Breakfast would like to thank BnBFinder for this recipe.

Recipe number 2953. Submitted 11/12/2010.