Cranberry Pumpkin Bread

(14 servings)

2 large eggs - slightly beaten
2 cups sugar
1/2 cup oil
1 cup Libby's Solid Pack Pumpkin
2 and 1/4 cups all-purpose flour
1 Tablespoon pumpkin pie spice
1 teaspoon baking soda
1/2 teaspoon salt
1 cup cranberries - chopped
Combine eggs, sugar, oil and pumpkin; mix well.

Combine flour, pie spice, soda and salt in a large bowl; make well in center.

Pour pumpkin mixture in well; stir just until wet ingredients are moistened. Stir in cranberries.

Spoon batter into 2 greased and floured 8 x 4 x 3-inch aluminum loaf pans.

Bake in moderate oven (350 degrees) 1 hour or until toothpick inserted in center comes out clean.

Makes 2 loaves.



For the oil, try canola or vegetable oil. Any brand of solid pack pumpkin may be used, but I'm sure the Libby's people would appreciate your business.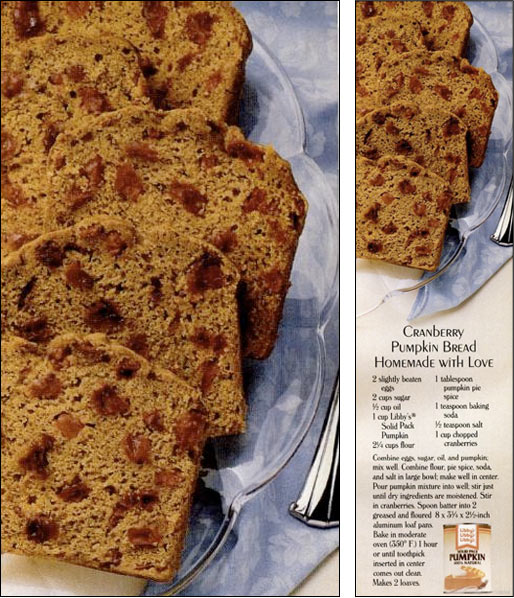 Classic recipe from a 1987 advertisement for Libby's Solid Pack Pumpkin. This bread is homemade with love. Perfect for the holidays.




Mr Breakfast would like to thank Mr Breakfast for this recipe.

Recipe number 2943. Submitted 10/22/2010.