Baked Peach French Toast

(6 servings)

6 1-inch-thick slices whole-grain bread
1 8-ounce package cream cheese
6 sliced medium (or 8 small) fresh peaches
1/2 cup pecans - chopped
1/2 cup whole milk
1/2 cup buttermilk
1/3 cup maple syrup
3 large eggs
2 Tablespoons unsalted butter - melted
1 Tablespoon sugar
1 teaspoon cinnamon
1 teaspoon vanilla extract
1 Tablespoon Kahlua coffee liqueur (optional)
Preheat oven to 400 degrees.

Lay bread slices face-down in a casserole dish or baking dish. Prick each slice of bread 3 or 4 times each with a paring knife.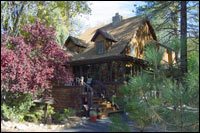 The Strawberry Creek Inn in Idyllwild, CA.

Spread a layer of cream cheese on top of each slice of bread. Arrange peach slices on top.

In a large bowl, gently beat the eggs. Add the milk, buttermilk, maple syrup, melted butter, sugar, cinnamon, vanilla and Kahlua. Whisk to combine. Pour over bread and peaches. (The liquid should come to at least the tops of the bread slices.)

Sprinkle the chopped pecans over peaches.

Bake for 20 to 30 minutes, or until bread is no longer soggy and just beginning to brown on the edges.

Note: You may also let assembled french toast sit in the refrigerator for several hours or overnight before baking.


This peachy breakfast recipe is from the Strawberry Creek Inn in Idyllwild, California. For best results, fresh peaches are a must.




Mr Breakfast would like to thank BnBFinder for this recipe.

Recipe number 2940. Submitted 10/18/2010.