Spam Quiche

(6 servings)

1 can Spam luncheon meat - cubed
1/4 cup chopped onion
1/4 cup chopped green pepper
1 Tablespoon cooking oil
1 cup shredded Monterey Jack cheese
2 cups milk
1 cup biscuit mix
4 eggs
1/8 teaspoon pepper
Saute Spam, onion and green pepper in oil until vegetables are tender. Spoon into lightly greased 10-inch deep pie plate; sprinkle with cheese. Mix remaining ingredients in blender or with hand mixer until smooth. Pour evenly into pie plate.

Bake at 400 degrees for about 30 minutes. Let stand 5 minutes before cutting.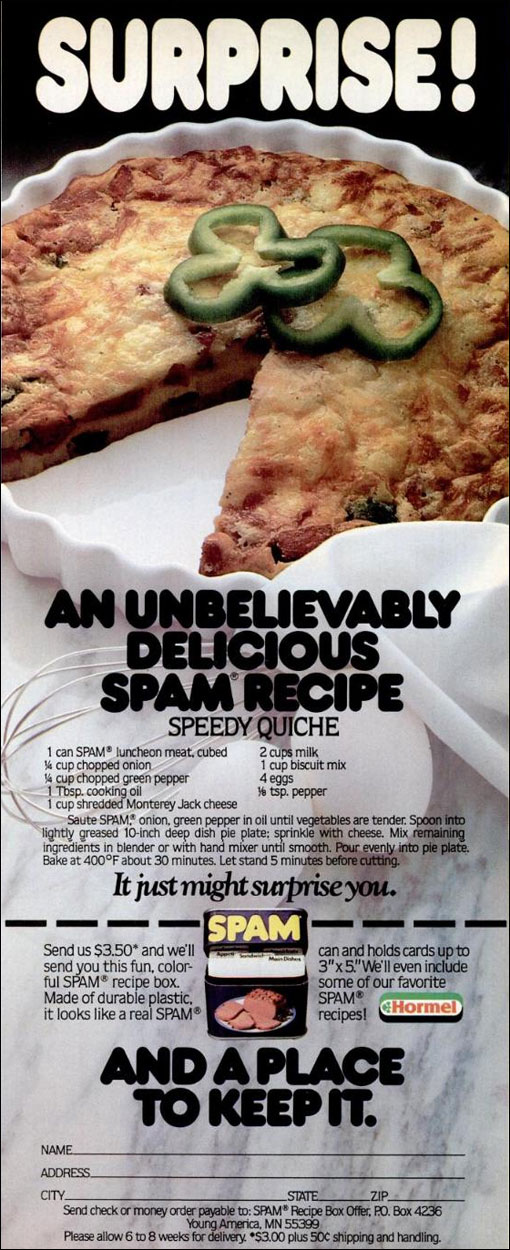 Classic recipe from a 1984 magazine ad... "an unbelievably delicious Spam recipe... Speedy Quiche... It just might surprise you."




Mr Breakfast would like to thank Mr Breakfast for this recipe.

Recipe number 2934. Submitted 10/8/2010.