Pumpkin French Toast

(4 servings)

4 large eggs
1/2 cup canned pumpkin puree
1/2 cup milk
1 Tablespoon brown sugar
1 teaspoon ground cinnamon
3/4 teaspoon vanilla
1 dash salt
1/8 teaspoon ground nutmeg
8 slices day-old bread*
butter - for frying
This recipe is very easy because a lot of the preparation consists of throwing ingredients in a blender. I found that the completed French toast packed a lot of pumpkin flavor. I adjusted the recipe just slightly (reflected in the ingredients above) to add some brown sugar and to increase the amount of pumpkin. (Recipe submitted in 2010. It was tested and photographed by Mr Breakfast in October 2013. The photo at the top of the page is from the recipe submitter.)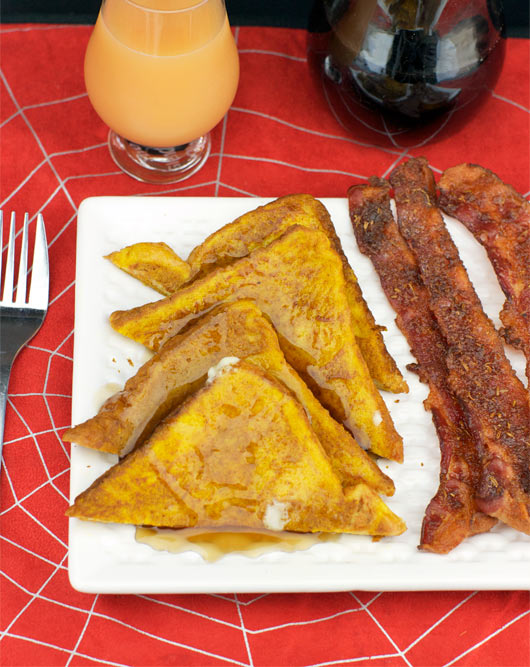 How To Make Pumpkin French Toast



* French bread is my favorite as it really absorbs the egg mixture. Standard white or wheat slices work fine as long as they're slightly dry.



In a medium bowl, beat the eggs. Add the pumpkin, milk, cinnamon, vanilla, salt and nutmeg and continue to beat until well combined. Transfer mixture to a shallow baking pan big enough to fit 2 slices of bread face-down.

Place a skillet or large frying pan over medium heat. Melt about 2 teaspoons of butter for batch of French toast.

Place bread slices in the egg mixture and coat each side for 10 or 15 seconds. Use a spatula to remove if bread gets too soggy. Transfer the slices two at a time (more if your skillet has room) to the heated pan. Fry each side of the bread to a golden-orangish-brown - 2 to 4 minutes per side.

Add additional butter to the frying pan as needed to complete remaining batches.

Plate two pieces of French toast per person. Serve with softened butter and warm maple syrup.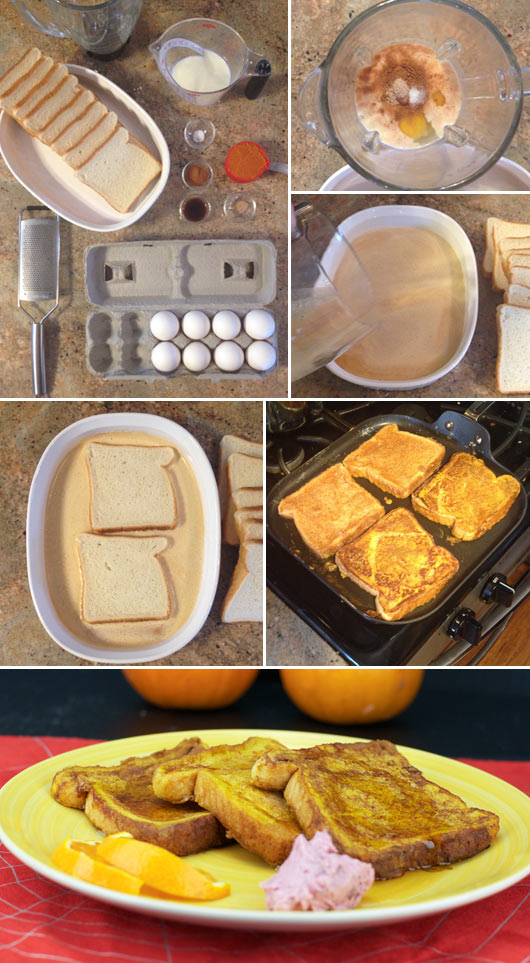 Delicious any day of the year, but especially appropriate and tasty on Halloween... or any weekend in the fall. Enjoy!




Mr Breakfast would like to thank Bennett for this recipe.

Recipe number 2925. Submitted 9/23/2010.