Classic Grape-Nuts Bread

(10 servings)

1 and 1/3 cup milk - scalded
2/3 cup Grape-Nuts cereal
2 cups all-purpose flour - sifted
2 and 1/2 teaspoons Calumet (or any brand) baking powder
1 and 1/2 teaspoons salt
2/3 cup sugar
1 large egg - well beaten
3 Tablespoons shortening - melted
Pour milk over cereal and let stand until cool.

Sift flour once, measure, add baking powder, salt and sugar. Sift again.

Add egg and shortening to cereal mixture and mix well. Then add flour mixture and stir enough to dampen flour.

Turn into 10 x 5 x 3 inch loaf pan, lined on bottom with paper. Bake in moderate oven (350 degrees) 1 hour or until done.

Wrap in waxed paper and store several hours or overnight before slicing.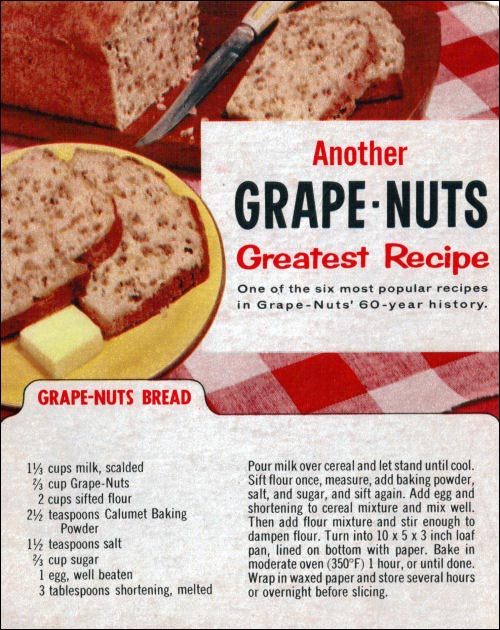 According to the vintage magazine ad where this recipe appeared, this bread is one of the most popular recipes in Grape-Nuts (then) 60-year history.




Mr Breakfast would like to thank Mr Breakfast for this recipe.

Recipe number 2924. Submitted 9/22/2010.