Feta Omelette Roll (Egypt)

(1 serving)

2 large eggs
1/4 teaspoon pepper
2 Tablespoons crumbled feta cheese
2 teaspoons milk
In a medium bowl, beat the eggs with the pepper.

In a separate small bowl, mash the feta cheese and milk together with a fork.

In a non-stick frying pan over medium-high heat, add the beaten eggs. Tilt and swirl the pan to distribute uncooked egg. As eggs cook, lift the edges of the omelette with a spatula so uncooked egg flows underneath.

When the egg is almost completely set, spoon the feta mixture over the top of the omelet. Fold one quarter of the egg over the cheese then roll or fold once more to make a cylindrical shape.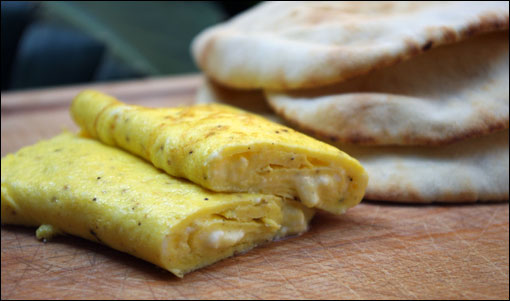 This omelette is great for Suhoor (pre-dawn Ramadan breakfast) or for any time of year. Try adding a pinch of your favorite herb. Delicious.




Mr Breakfast would like to thank Mr Breakfast for this recipe.

Recipe number 2909. Submitted 8/18/2010.